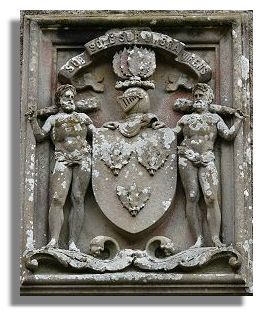 Drum Castle is an amalgam of a number of different styles of architecture, incorporating an ancient tower, a Jacobean mansion and a Victorian extension. King Robert the Bruce appointed William Irvine as his representative in the Royal Forest of Drum and the Barony of Drum in a charter dated 1323. He was also given the Tower of Drum, which had probably been built in the second half of the 13th century. The keep is one of the three oldest tower houses in Scotland.

The Irvines continued to serve the monarch and Alexander, the fourth laird of Drum played a significant part in the negotiations which secured the release of King James I who had been held captive in London for eighteen years. The king granted him a knighthood as a result.

The ninth laird of Drum was responsible for the building of the Jacobean mansion in 1619. He was so rich that he was able to lend money to King James VI and set up a scholarship at Aberdeen University (which survives to this day).

The Irvine family - and Drum Castle - suffered during the Civil War, providing support for the Royalist cause of the king. With the return of King Charles II, the eleventh laird was offered a peerage - but turned it down as the king refused to provide financial compensation for the damage caused while supporting the monarchy. The Irvines also supported the Jacobite cause and the 14th laird died at Sheriffmuir in 1715.

Financial problems led to most of the estate having to be sold off in 1736 but the seventeenth laird was still involved with the Jacobite Uprising of 1745 and fought at Culloden. He escaped to France but later returned.

In 1984, the castle and its 411 acres were bequeathed to the National Trust for Scotland by the 24th laird.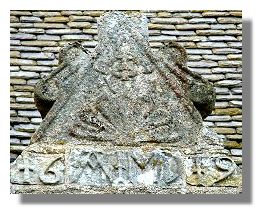 The Jacobean mansionhouse (see illustration below) was built in 1619. We know this from the carving above one of the dormer windows which carry the initials of the laird (Alexander Irvine) and his wife (Marion Douglas). Unfortunately, the stone mason was not a man of letters and the 1619 was carved upside down and looks like 6191! See the graphic on the left. The elegant frontage incorporates windows and a doorway, which were added in the 18th century.
Drum Castle has a walled garden (there are records of gardens at Drum going back to the mid-17th century) and in recent years this has been developed by the National Trust and includes areas which reflect the plants from the 17th, 18th, 19th and 20th centuries, incorporating a Garden of Historic Roses.