Scottish Castles Photo Library
- Doune Castle, Stirlingshire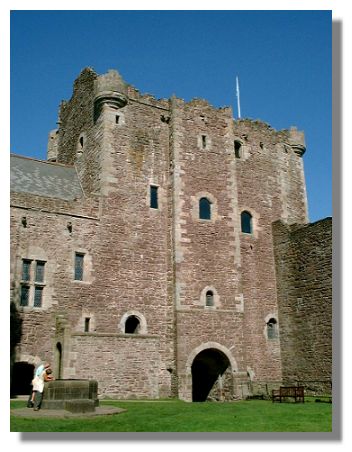 The present Doune Castle was established at the end of the 14th century by Robert Stuart, the first Duke of Albany and younger son of King Robert II. When his elder brother, King Robert III became unfit to rule, the Duke of Albany virtually governed Scotland for thirty years. So although Doune was not a royal palace at that stage, it was built by someone who was a king in all but name.

The castle was used as a royal retreat by King James I to VI. It was also used as the residence of the Queens of Scotland, including Mary of Gueldres (wife of James II) and Margaret of Denmark (wife of James III). Sir James Stewart, was created keeper of the castle in the middle of the 16th century. He became Lord Doune in 1570 and when his son married the heiress of the first Earl of Moray, he inherited that title too.

In the Jacobite Uprising of 1745, MacGregor Of Glengyle was appointed as temporary governor by Prince Charles Edward Stuart. After the battle of Falkirk in January 1746, prisoners taken by the Jacobites were interned at Doune - including the young Rev. John Witherspoon who was later to emigrate to America and become one of the architects of the Declaration of Independence and president of Princeton College.

See also Places to Visit - Doune Castle> for more information and illustrations.
Return to the Castles Photo Library Index>
or go to the next castle:

Drum Castle.


---
Where else would you like to go in Scotland?


Where else would you like to go in Scotland?