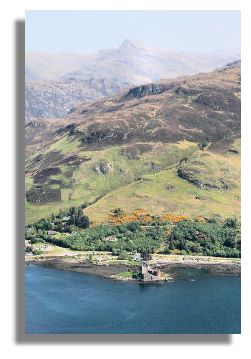 Eilean Donan Castle is built on a small island in Loch Duich, a sea loch on the coast of the western Highlands, close to the main A87 road to Kyle of Lochalsh and the Isle of Skye. In recent times, the castle has been connected to the mainland by a footbridge. The castle's name is derived from the the Gaelic word for "island" (Eilean) and St Donan, a martyred Celtic saint. A 13th century wall surrounds a courtyard and in a corner is a strong, 14th century keep (tower) rising to three storeys and a garret. Adjoining buildings were constructed in in later centuries.

The original castle was built in 1220 for King Alexander II as a defence against the Vikings. King Alexander III gave the lands and the castle to Colin Fitzgerald, son of an Irish Earl, for his help in defeating King Hakon of Norway at the Battle of Largs in 1263. The Fitzgeralds changed their name to Mackenzie and Eilean Donan became the principle stronghold of the Mackenzies of Kintail (later the Earls of Seaforth). In 1306, Robert the Bruce sheltered in the castle.

In 1511, the MacRaes, as protectors of the Mackenzies, became the hereditary Constables of Eilean Donan Castle. In 1539 Iain Dubh Matheson, chief of the Clan Matheson, acting on behalf of Clan MacRae and Clan Mackenzie, died whilst defending the castle against Donald Gorm MacDonald of Sleat, who had claims on the Lordship of the Isles. Donald was also killed - by an arrow fired from the castle.

During the Jacobite rising of 1719, William Mackenzie, 5th Earl of Seaforth, had Eilean Donan garrisoned by Spanish troops in support of the rising. The castle was captured, and then demolished, by three Royal Navy frigates on 10–13 May 1719. The Spanish troops were defeated a month later at the Battle of Glen Shiel.

Eilean Donan remained a ruin for 200 years but was restored between 1919 and 1932 by Lt. Col. John MacRae-Gilstrap. The restoration included the construction of an arched bridge to give easier access to the castle. In 1983 The Conchra Charitable Trust was formed by the MacRae family to care for the Castle. Because of its beautiful situation in Loch Duich and the surrounding hills, Eilean Donan Castle has become one of the most photographed monuments in Scotland. It is a popular venue for weddings and film locations, including The Master of Ballantrae (1953), Highlander (1985), Loch Ness (1996), The World Is Not Enough (1999) and Elizabeth: The Golden Age (2007). The castle is a major tourist attraction in the area - see the Eilean Donan Castle Web site.

Note: The photos above of Eilean Donan Castle are copyright Scotavia Images who provide a quality aerial photography service for Scotland. Prints from their large online gallery are available for purchase. If you have ancestors with a Scottish Highland origin, they can provide an aerial view of the area they came from!