Scottish Castles Photo Library
- Dirleton Castle, Lothian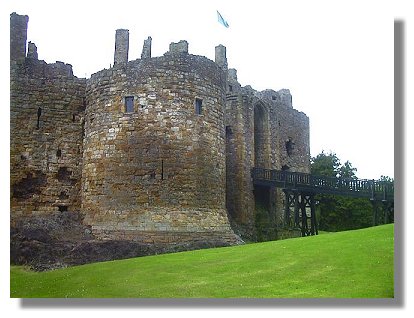 The Dirleton estate was acquired by the de Vaux family, from Rouen in Normandy, in the reign of King Malcolm IV (1153-1165). The present castle was first built in the 13th century - and was strong enough to resist an English siege in 1298. The castle was eventually taken when food ran out. However, in 1314 Robert the Bruce was determined to ensure that the invading English army could not use it as a base and ordered its destruction.

The castle passed to the Halyburton family who rebuilt the castle, adding a great hall. In 1505, through marriage, the castle became part of the estates of the Ruthven family. The 3rd Lord Ruthven was a staunch protestant and was one of the main culprits in the murder of one of Mary Queen of Scots' favourites, David Riccio in 1566.

King James VI gave the castle to Sir Thomas Erskine but it was sold in 1625 to Sir James Douglas. In November 1650 Oliver Cromwell sent 1,600 men to capture the castle because it was being used by Royalist "moss-troopers" to attack his supply lines. After this the castle was allowed to decay.

See also Places to Visit - Dirleton Castle> for more information and illustrations.
Return to the Castles Photo Library Index>
or go to the next castle:

Doune Castle.


---
Where else would you like to go in Scotland?


Where else would you like to go in Scotland?