Scottish Castles Photo Library
- Carnasserie Castle, Argyll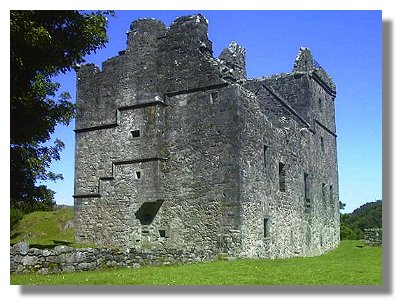 Built between 1565 and 1572 on the site of an older building, Carnasserie Castle is on a ridge above the Kilmartin valley. It was built by John Carswell who became Bishop of Argyll and the Isles in the reign of Mary Queen of Scots. Carswell held the lands and the castle on behalf of Archibald Campbell, the 5th Earl of Argyll. A motto above a doorway reads " God be with O Duibhne" - the archaic name for the chiefs of the Campbells of Argyll.

The castle was badly damaged by the MacLeans and MacLachlans when the 9th Earl of Argyll took part in the Monmouth Rising, a rebellion against King James VII in 1685. Nevertheless, there are still fine stone carvings and a magnificent fireplace to be seen.

See also Places to Visit - Carnasserie Castle> for more information and illustrations.
Return to the Castles Photo Library Index>
or go to the next castle:

Castle Campbell.


---
Where else would you like to go in Scotland?


Where else would you like to go in Scotland?