Scottish Castles Photo Library
- Castle Campbell, Clackmannanshire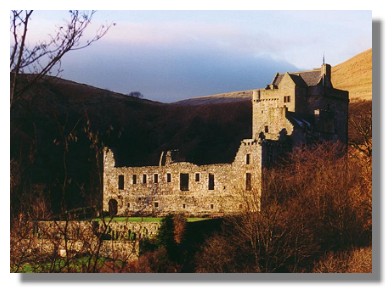 Perched on a promontory between the Burn of Care and the Burn of Sorrow, high in Dollar Glen, in Clackmannan, Castle Campbell (or Castle Gloom as it was once called, derived from the Gaelic "glom" meaning chasm), is one of the most romantic castles in Scotland.

Originally, the lands in this area were held by the Stewarts but Colin, 2nd Lord Campbell married Elizabeth Stewart and thus acquired the "Lands of Glume." The principle seat of the Campbells was Inveraray Castle, but Castle Gloom (renamed Campbell in 1489) was their main base in the Lowlands of Scotland.

John Knox is said to have preached from a rocky knoll in the south-west corner of the castle, now called "John Knox's Pulpit." As a stronghold of the Covenanters, Castle Campbell was attacked by the forces of James Graham, Marquis of Montrose who supported the Catholic King Charles I but it appears that the castle withstood the assault. However, in September 1650, Oliver Cromwell defeated the Scots at the Battle of Dunbar. Castle Campbell was later used as a garrison for the English soldiers and during this time the castle was set on fire. Charred floorboards were found in 1982 during excavations at the castle.

See also Places to Visit - Castle Campbell> for more information and illustrations.
Return to the Castles Photo Library Index>
or go to the next castle:

Castle Fraser.


---
Where else would you like to go in Scotland?


Where else would you like to go in Scotland?