Scottish Castles Photo Library
- Carsluith Castle, Dumfries & Galloway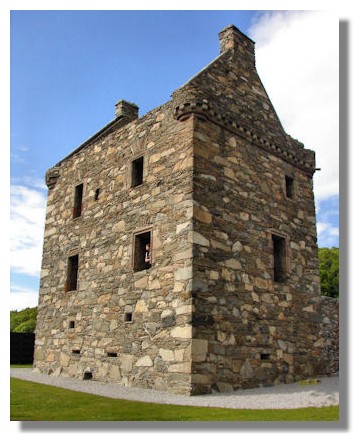 Carsluith Castle looks out over Wigtown Bay and the Solway Firth in Dumfries and Galloway. The lands there were originally held by a family of Cairns but in 1460 James Lindsay of Fairgirth who was Chamberlain of Galloway took over. He was probably the builder of the original main tower at Carsluith in the late 15th or early 16th century. The castle then passed, through the marriage of his daughter, to a Richard Brown. The Browns (often referred to as Brouns) had been established in Galloway since the 12th century, during the reign of King David I and was involved in the establishment of Dundrennan Abbey. Richard Brown added a stair tower in the 1560s. Richard's son Gilbert Brown was a supporter of the Catholic faith at the time of the Reformation. The Browns were constantly feuding with the Protestant McCullochs of Barholm. In 1579 Richard Brown's grandson was charged with murdering the MCulloch laird of Barholm.


Gilbert Brown served as the last abbot of Sweetheart Abbey, near Dumfries, before the Protestant Reformation. Gilbert was regarded as a scholar and spent 4/5 years at Oxford University. Gilbert resisted the Reformation and it was alleged that Gilbert was sheltering Jesuit priests at Carsluith. In 1605 he was arrested for his Catholic sympathies. He was banished to France, where he became rector of the Scots College, Paris. He returned in 1608 to the abbey but after Catholic books and images were found in his rooms and he fled to France gain and died there in 1612.

The Browns of Carsluith emigrated to India in 1748, and the castle has not been occupied since. It is now in the care of Historic Scotland.
Return to the Castles Photo Library Index>
or go to the next castle:

Carnasserie Castle.
---
Where else would you like to go in Scotland?


Where else would you like to go in Scotland?