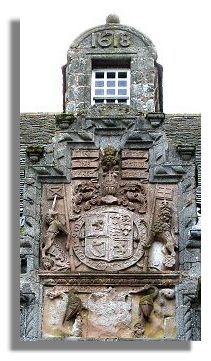 Castle Fraser was built between 1575 and 1635 but since then there have been alterations in the early 19th century and the addition of a grand staircase in Victorian times (though this was demolished after the Second World war). The name Fraser originated in Anjou in France (originally de Frisselle, de Freselière or de Fresel). They settled first in Tweedale and Lothian, the name becoming Fraissier (strawberry bearer) with the flower of the fraisse or strawberry as part of their armorial bearings.

Sir Alexander Fraser married the sister of King Robert the Bruce and another Fraser founded the town of Fraserburgh. In the 15th century, Thomas Fraser was granted the lands of Muchall and Stoneywood and originally the castle bore the name of Muchall-in-Mar (until 1695).

In the mid-1570s, Michael Fraser began to create a larger house, which was called initially "Michael's Tower", but it was incomplete when he died at the end of the 1580s. So it was his heir, Andrew Fraser who completed the castle, much as it appears today. Andrew took advantage of the period of peace brought about by the Union of the Crowns in 1603, married well and became the First Lord Fraser in 1633. It was Andrew who placed a large panel above his first-floor entry to the castle with the royal coat of arms and his own arms below - see illustration on the right.

The second Lord Fraser (also named Andrew) married the daughter of Lord Balermino, an outspoken critic of King Charles I's attempts to impose an Anglican form of worship on the Scottish church. Lord Fraser was of a like mind, and became a supporter of the Covenanters who fought to maintain the Presbyterian church. In 1644, the Marquess of Montrose who was in command of the Royalist forces in Scotland attacked the farmland and corn stores, but spared the castle.

The Fraser family supported both the 1715 and 1745 Jacobite Uprisings. The castle and estate passed through a number of heirs, not always in a direct line and the last Fraser to own the property never lived in it as he became Privy Chamberlain to the Pope and then Master of Ceremonies at St Peter's in Rome. In 1921, the estate was bought (at auction) by the First Viscount Cowdray for his second son, The Hon. Clive Pearson. The family had a passion for restoring old buildings and a painstaking restoration was undertaken by Mr Pearson, which was continued by his second daughter. In 1976, the castle and 26 acres of land were gifted to the National Trust for Scotland.

Visitors can now tour the castle (complete with period furnishings and decor), the excellent walled garden and the many pathways through the extensive policies.