Although Blairquhan Castle (pronounced "Blairwhan" to rhyme with the Spanish "Juan") as we see it today is largely as designed by the architect William Burn in the 1820s, it replaced a castle which had been developed from a 14th century McWhurter's Tower and additions made in 1573. Located near the village of Straiton, it is set in an upland area near the river Girvan.

Early on, the property had passed from the McWhurters to the Kennedys and then the Whitefoords. Charles Whitefoord from Blairquhan fought against the Jacobites at the Battle of Culloden in 1746 and Sir John Whitefoord was a patron of Robert Burns.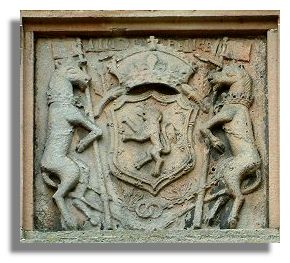 The Whitefoords were badly affected by the collapse of an Ayrshire bank in 1769. Although they retained Blairquhan, they were forced to sell it in 1798. The descendants of the new owner, Hunter Blair, still live in the castle. The double-barrelled name arose from David Hunter, a son of a landed Ayrshire family, and Jean Blair, the daughter and heiress of John Blair of Dunskey in Wigtownshire. The couple had no less than 14 children - a painting of the family hangs in Blairquhan Castle. Their second son, also David, took over the estate in 1798.
David Hunter Blair inherited the baronetcy in 1800 when his elder brother died and after marrying a niece of the Marquess of Tweedale, he and his family settled at Blairquhan. But he did not take up full residence there until after a major expansion of the building, completed in 1824. The castle is largely as he created it, including all of the original furniture. There is also a large walled garden, although because of rising ground, there are only walls on three sides.
These days, the castle is open to the public for a spell each summer, is available for weddings and corporate events and has a number of holiday cottages on the estate available for rent.