Scottish Castles Photo Library
- Borthwick Castle, Lothians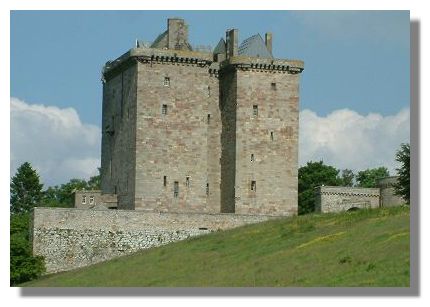 The present castle was originally built by Sir William Borthwick in 1430 but on the site of an earlier fortification. In 1567, Mary Queen of Scots and her third husband, James Hepburn, Earl of Bothwell, stayed at the castle soon after their marriage at the Palace of Holyroodhouse. A force of 1000 men, intent on killing Bothwell, turned up. Mary negotiated with them - while Bothwell slipped away. Next morning Mary also escaped, disguised as a page boy.

The castle was abandoned in the 17th century but was fully restored in 1890. The two wings of the castle, separated by a narrow recess, rise to eight storeys. The walls are exceptionally thick, extending to three metres and there are stairs within these walls. Borthwick Castle is now an up-market hotel.

See also Places to Visit - Borthwick Castle> and Staying in Borthwick Castle> for more information and illustrations.
Return to the Castles Photo Library Index>
or go to the next castle:
Bothwell Castle.


---
Where else would you like to go in Scotland?


Where else would you like to go in Scotland?