Scottish Castles Photo Library
- Alloa Tower, Stirling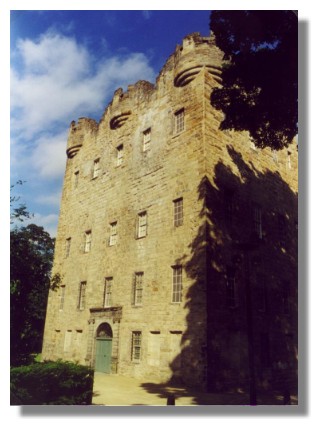 Begun in the 15th century as a keep, Alloa Tower rises to four storeys plus a garret. The very thick walls enclose a vaulted basement, a hall on the first floor and another vaulted area on the second floor. The top floor has an unusual timber roof.

The estate was granted to the Erskine family in the 14th century when Sir Robert Erskine was Great Chamberlain of Scotland. The tower remained with the family. In the 16th century, Lord Erskine was a tutor of Mary Queen of Scots and she spent some time in Alloa as a child. She later bestowed the title of Earl of Mar on Lord Erskine. The Erskine coat of arms are still visible on the wall of the tower.

In recent years Alloa Tower has been restored and is open to the public. On display are portraits of the Erskine family.
Return to the Castles Photo Library Index>
or go to the next castle: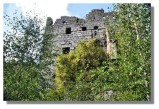 Almond Castle


---
Where else would you like to go in Scotland?


Where else would you like to go in Scotland?