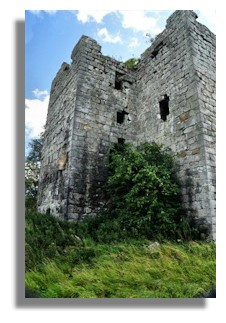 Just over 300 metres north of Muiravonside Church are the remains of Almond Castle. This was once the principal seat of the Barony of Manuel and, anciently, the castle and its immediate lands were known as Haining.

William de Crawfurde de Manuel is on record in 1417. It remained with the Crawford family until the middle of the sixteenth century. William Crawford, the last of the male line, died in or around 1542. He was married to Margaret Livingston and he was survived by their two daughters, Agnes and Margaret. Agnes was married to Thomas Livingston, third son of Alexander, Lord Livingston of Callendar and, once she came of age, Margaret sold her half to Agnes in 1551.

The estate was held by this branch of the Livingstons until the middle of the seventeenth century. Sir James Livingston, the younger son of Alexander, Lord of Callendar and Earl of Linlithgow acquired the lordship of the castle and lands sometime around 1640. He had been honoured with the title of Lord Almond by King Charles I in 1633 for his past services and, as was not uncommon, his title became attached to the property. A writ of 1694 is inscribed 'Hayning now called Almond'. After the forfeiture of the Livingstons of Callendar in 1716, for supporting the Jacobite Uprising of 1715, the castle and lands were held by the York Buildings Company and the castle was abandoned in the 1750s. It was later purchased by William Forbes in 1783.

The castle appears to have been first built as a tower-house in the fifteenth century by the Crawford family; the surviving part is that earliest structure. Major additions were made in the sixteenth century superficially transforming it into a mansion house. The basement is vaulted and the main hall was on the first floor with the kitchen in an adjacent wing. Upper floors were accessed via a turnpike stair.

The castle is now in the middle of a former brick works.

The photographs and text for this article were kindly provided by Allan Bailey.