There are two suggested origins of the name "Airthrey" - a corruption of Ard-rhedadie (a high or ascending road, referring to the old road which leads through it to Sheriffmui), or from the Gaelic "Airthrin" - "a sharp point" or "conflict". This could refer to a battle fought near the site of the Castle in 839, when the Picts were defeated by the Scots under Kenneth McAlpine.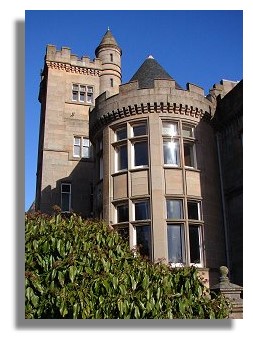 The name appears in a charter of King David I, thought to be from before 1146. In 1370, the estate was granted to Sir John Herice, Keeper of the nearby Castle of Stirling. Then the land passed to William, 3rd Lord Graham of Kincardine, for gallantry he displayed in the Battle of Sauchieburn in 1488 (in which King James III was killed attempting to subdue a group of rebel barons.). He was made Earl of Montrose in 1504 but died at the battle of Flodden in 1513. The estate remained in the ownership of the Grahams down to 5th Earl and first Marquis of Dundee, who fought a brilliant campaign in support of King Charles I from 1644 to 1650. By this time, the Airthrey Estate was in the ownership of a minor branch of the Grahams.
In 1678, the estate was purchased by John Hope of Hopetoun who was succeeded by Charles Hope of Hopetoun who was elevated to the House of Lords in 1703 with the titles of Viscount Airthire, Baron Hope and Earl of Hopetoun. In 1759, the estate was sold to Captain Robert Haldane of Plean. In 1791, his son, Robert Haldane, commissioned the design by the eminent architect Robert Adam, which is the basis of Airthrey Castle today. Despite the development, he sold it to Sir Robert Abercrombie in 1798.
The castle and estate remained in the ownership of the Abercrombie family until 1889 when yet another Graham (a Mr Donald Graham) bought it and made a large addition to the side of the castle in 1891.
During and after the Second World War it became a maternity hospital (the first dedicated facility in the Stirling area). Then in 1967, the estate became the site of Stirling University. Its buildings are located in 60 acres of woodland, 300 acres of mature landscaped parkland, a loch with an abundance of wildlife - and Airthrey Castle, where, among other activities, English Language courses are run. Some of the early students at the university had been born at Airthrey Castle during the time it had been a maternity hospital!