Dating back to 1476, Ackergill was a Keith stronghold - The Earl Marshall of Scotland Sir Reginald de Cheyne owning the house and estate, then estimated at well over 500,000 acres. Various Captains signing under the name of Keith looked after the lands in Caithness for many years and the estate passed in direct descent for eight generations, until the battle of Flodden in 1513. These were barbarous times and it became increasingly difficult for the Keiths to maintain their remote lands in the North of Scotland. The fifth Earl of Caithness took the tower by force in the late 1600's and held it for several years until Cromwell's troops in 1671 sent the Earl scurrying for safety in Orkney.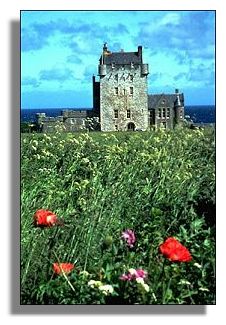 The house and grounds were duly returned to the Keiths but by 1696, tired of their most northern property, they sold it to Sir William Dunbar, of Hempriggs. In 1845 Sir George Dunbar, recently created Lord Duffus, employed David Bryce, the Edinburgh architect to transform the castle into the finest gentleman's seat in the North of Scotland. The Castle had a short period of glorious splendour in the late 1800's with hunting and shooting parties but the cost of the building and upkeep of Ackergill Tower soon took its toll and combined with Victorian gambling debts led to a period of slow decline.
The Castle was considered beyond salvation, when it was purchased in 1986 by the present owners - John and Arlette Bannister. In 1988, after a much loved restoration, the castle opened its doors once again and is now the premier letting property in the whole of Scotland.

(The text for this page was written by Andrew Loyd. Andrew has, by founding Loyd & Townsend-Rose ( LTR ), transformed his love of ancient castles into a highly successful business. LTR offer access to some of the finest private castles, including Birkhill, Glenapp and Myers, as well as other properties in Scotland and beyond).