A Rose Bed by Annie McFarlane
What is beauty unsurpassed?
A rose garden
Blooms of every hue and class,
In a rose garden.
Summer clouds are riding high,
But need we watch them passing by,
When so much beauty meets the eye
In a rose garden.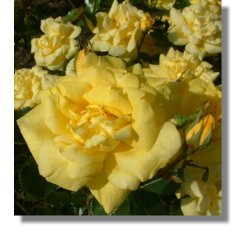 From lovely rosebuds tightly curled,
Slowly petals they unfurl,
Until with pride they show the world
The perfection of a rose garden.
Through the summer days
Their beauty lent,
Till petals fall,
Their perfume spent.
Battered by the wind and rain,
For a brief farewell remain
Like a patchwork counterpane,



A Fishy Tale or Tail by Keith Macpherson
There are strange things done
in the midnight sun
By the men who moil for gold,
The Arctic trails have their secret tales
That would make your blood run cold.
But nearer home, mid the spray and foam,
For the rivers were running high,
Three dauntless men sought a lonely glen
In quest of the fishy fry.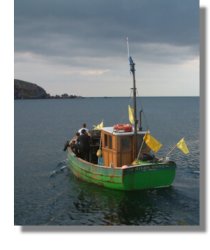 The day was rough, but the men were tough,
For the rain in torrents fell,
Tho' you may feel that it can't be real
I swear it's the truth I tell.
You've heard no doubt of the "Carrie" spout,
The sight makes you catch your breath,
'Mid the torrent sound salmon mill around
But you know that a slip means death.
Yet these dauntless three
On the rocks we see
Fearless they ply their art,
Far from the rush,
the crowd, and the crush
Theirs is a world apart.



To A Butterfly by William Kay
I chanced along a leafy glade
That surely elves and pixies made,
Where fairy folks their revels hold
And nectar sip from cups of gold;
For tiny twig and mighty bough
Were clad in summer raiment now,
And butterflies of brilliant hue
In aimless fashion round me flew.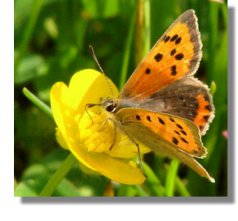 A King among them came my way
No rival near could say him nay,
A living jewel on fairy wings,
And yet they seemed such tender things;
Though stormy winds unharmed their sheen,
Man's slightest touch would surely mean
Those transient works of art were soiled
And Nature's gifts to thee bespoiled.
And if perchance it came to pass
You found a home in case of glass,
The quivering antennae are still,
The pulsing nerves no longer thrill;
Thy lifeless wings have lost the power
That bore you oft from flower to flower:
Since man has stopped the tiny breath
Your wonderous charms are lost in death.