---
Rampant Scotland
Scotland in Colour Week By Week
November - Week 2
"Scotland Week by Week" contains a selection of flowers, animals, birds and scenery typical of the time of year. The photographs were previously part of a regular "Colour Supplement" which ran for nearly four years as part of the original Scottish Snippets newsletter. While seasons do vary from year to year, this collection gives a good idea of the flora and fauna typical of central Scotland at each week of year.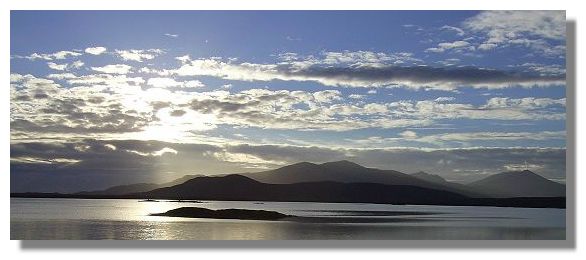 Although the photos in this section are usually taken by myself, this lovely shot of South Uist was taken from Benbecula by William Doig.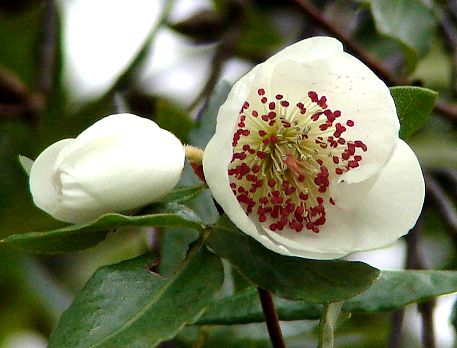 Eucryphia trees are great for producing brilliant white flowers in the autumn. But this one in Finlaystone Country Estate, on the border between Inverclyde and Renfrewshire, is producing blooms at a particularly late stage. Other examples finished flowering many weeks ago.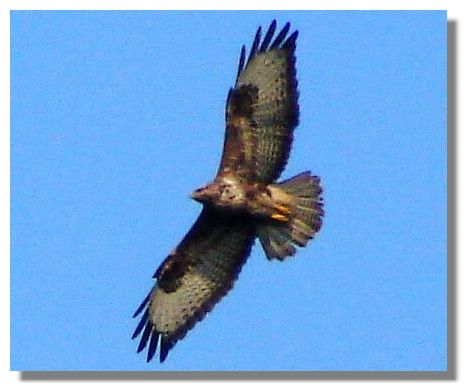 When you see that large wing-span (about 4 to 5 feet) and those talons, it is easy to see why the buzzard has been so successful in recent years.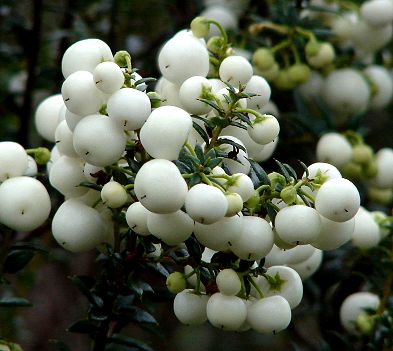 These white berries on the pernettya bush don't seem to be popular with birds and will remain for most of the winter.

The differences between the resident mute swan and the over-wintering whooper variety (with its yellow bill and different shape of the head) are seen in this picture. The Whoopers come into Scotland at this time of year, flying in from Iceland and Greenland. This photo, like the one below, was taken at Hogganfield Loch in Glasgow.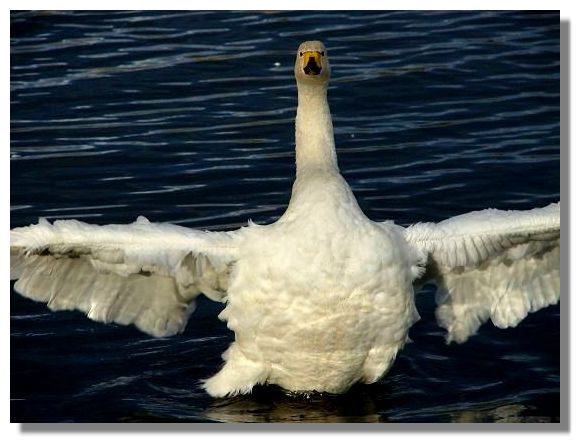 Was it something I said? I was about to take a picture of this Whooper Swan when it suddenly reared up, flapping its wings. It shows off dramatically the huge wing-span of these birds (up to five feet across).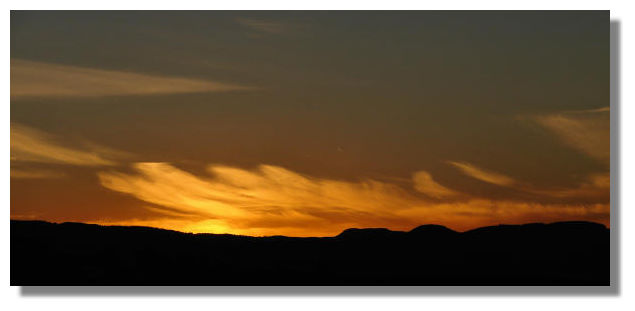 I have a liking for photographs of sunsets and today's digital cameras seem to do a much better job of capturing the glorious colours. This sunset was photographed at the RSPB Vane farm reserve near Kinross.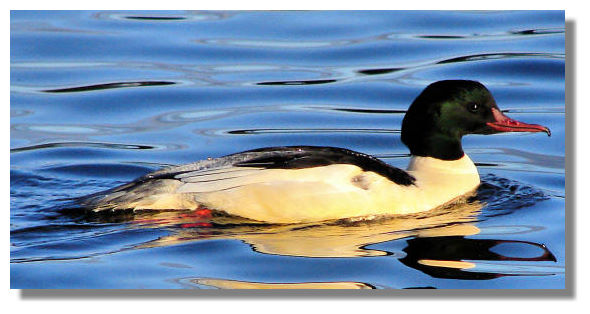 Goosanders have now returned to the lochs of central Scotland for the winter months after breeding in the upland areas, close to woodlands. These sleek birds are experts at catching fish, frequently diving under water - making photography difficult at times!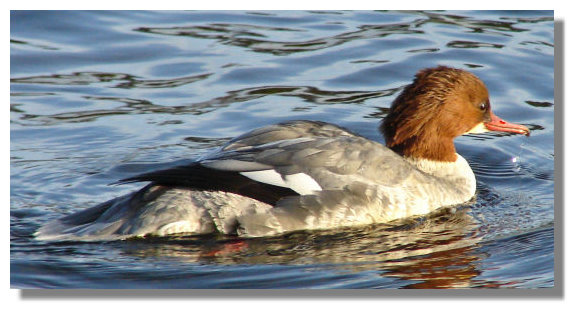 This is probably a female Goosander, but the young males look very similar to this until they develop the black and white (with a flush of pink in winter) of the males.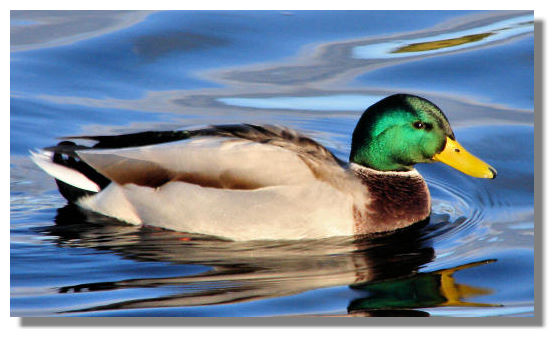 Mallards moult after the breeding season and for a while look very scruffy and are unable to fly for a few weeks. But they have now renewed their feathers and the iridescent green of this handsome male is catching the sunlight.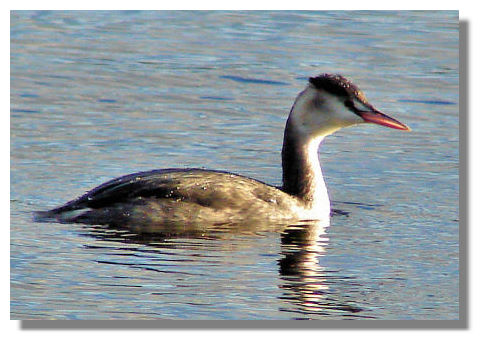 Over the summer, it has been fascinating to watch the rapid growth of the young birds after they have hatched out. This young Great Crested Grebe is now well able to look after itself. As yet, it has not developed any of the adult's crest - and looks more as if it is sporting a crew cut!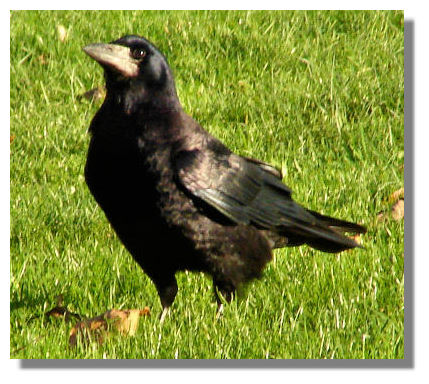 Rooks and Crows are not particularly popular birds and are usually regarded as "pests". But I have to confess that I have grown to admire their intelligence - they learn to recognise individuals like me who will throw them bits of bread and will follow along, swooping past to make sure you know they are there. But they have learned to be wary. Move your arm too quickly when throwing them food and they will move away in alarm - only to turn round immediately they realise there is food to be had!

Hypericum (also known as Rose of Sharon) produces abundant golden yellow flowers over many months and was still displaying these attractive blooms this week in my own garden. That's seed pods of earlier flowers that have lost their petals surrounding the one still in bloom.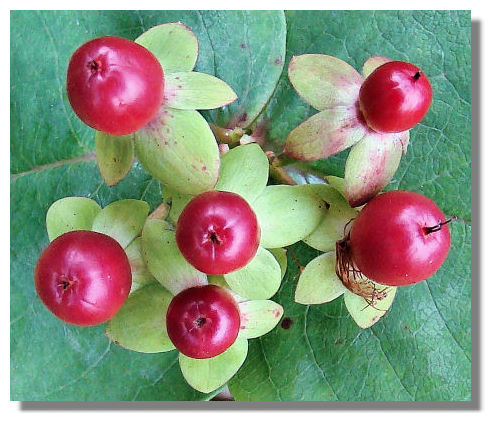 After flowering, the yellow seed pods of this variety of Hypericum turn bright red and eventually darken to become black.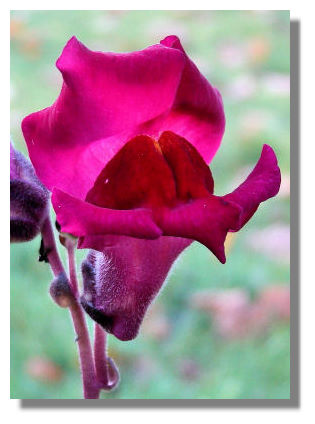 Antirrhinum are also known as Snapdragon but in Scotland they are also called "Mappy Maws" - literally "rabbit mouths". Pinching the flowers at the side opens up the "mouth"!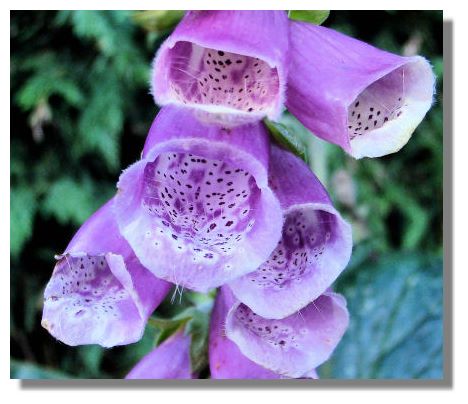 Most Foxgloves (Digitalis) have finished flowering by now and their seeds have fallen to the ground to produce the next generation of plants. There are a number of different varieties of Foxglove growing in my garden and I didn't plant any of them - they all arrived from seeds brought in on the wind or by birds! I used to take out the seedlings as "weeds" till I realised that these "wild flowers" looked just as good as many plants obtained from the garden centres!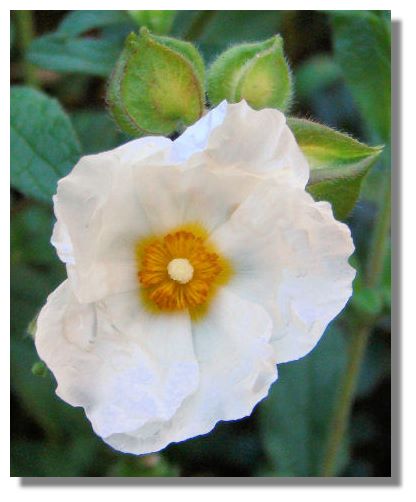 This Cistus or Sun Rose has been producing its papery white flowers since mid-summer. Individual flowers don't last for long - but there is a seemingly never-ending succession of blooms for weeks and months on end.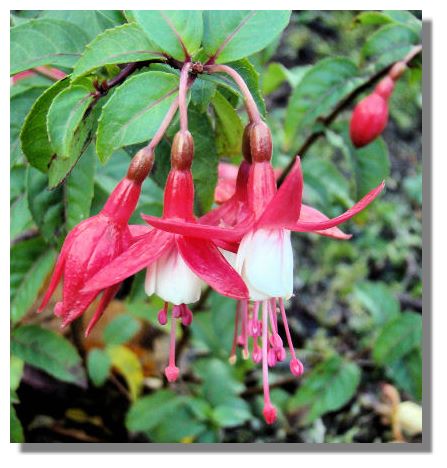 Fuchsias are also known as "Ladies' Eardrops" for very obvious reasons. They are another long-flowering plant, ideal for small gardens.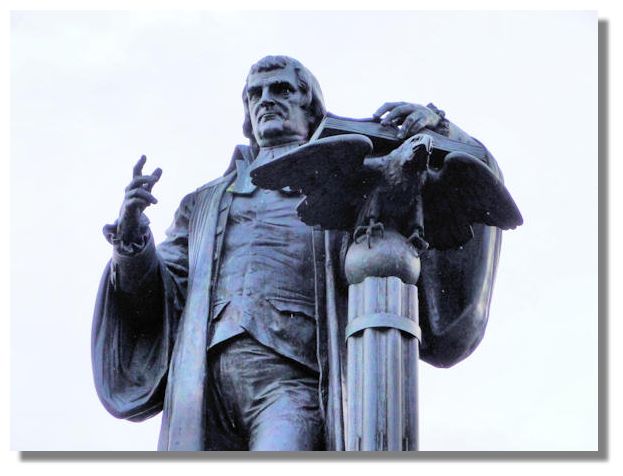 An ancestor of John Witherspoon (1723-1794) was John Knox, who had been a major force in the Reformation of the church in the middle of the 16th century. Witherspoon also became a minister. He was a brilliant orator and was "head hunted" by a number of churches in Scotland (and abroad) before moving to Paisley - where this striking statue is located. He was persuaded by letters from Benjamin Franklin in 1768 to become president of the College of New Jersey (later Princeton University). Witherspoon was soon supporting the independence fight in America and became what in today's politics would be regarded as a senator. When some of the delegates from the thirteen American colonies gathered to decide whether to break completely with Britain expressed hesitation, it was Witherspoon who urged them to sign the Declaration of Independence, saying "There is a tide in the affairs of men, a nick of time. We perceive it now before us. To hesitate is to consent to our own slavery." After leaving Congress in 1782, Witherspoon was involved in the rebuilding of Princeton College (destroyed during the war). He was its President from 1768 until his death in 1794. For more on Witherspoon, see Famous Scots - John Witherspoon.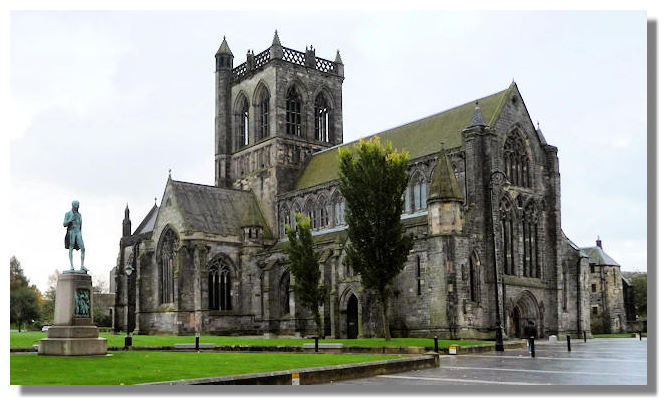 The charter to establish the priory at Paisley, seven miles from Glasgow, was signed in 1163 by Walter FitzAlan, in Fotheringay Castle in England. The priory, which was sited on a church founded by St Mirin around 560AD, was raised to the status of abbey in 1245. Six generations of the FitzAlans were the hereditary High Stewards of Scotland. Walter, the sixth to hold the office, married Marjory, daughter of Robert the Bruce in 1315. Marjory died within a year of the marriage, following a riding accident but her baby was born by a crude form of caesarean section and became Robert II, the first of the Stewart monarchs. All six of the High Stewards are buried in Paisley Abbey and Marjory's tomb is in the Abbey too. In succeeding centuries, fires and the collapse of a tower caused considerable damage and parts of the abbey lay open to the skies for 350 years. It was not until the 19th century that it was re-roofed and a number of walls were restored.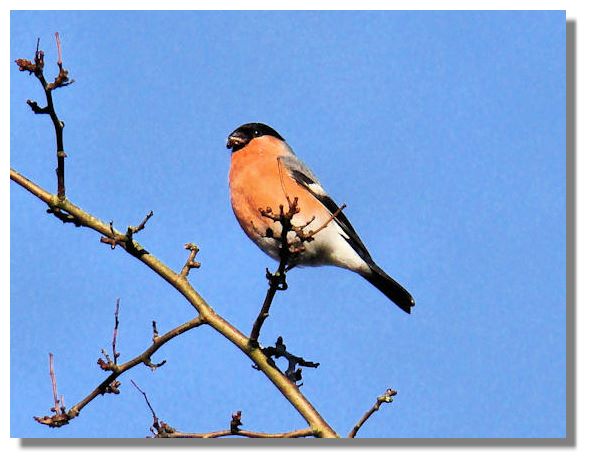 The Bullfinch is about the same size as a House Sparrow, but often looks bigger than that with its large head, thick neck and plump body. The adult male (seen here) has rose pink chest and the upper feathers are grey. It is a shy, secretive bird and feeds on buds and berries and can often be seen in springtime tucking into the buds of emerging cherry blossom.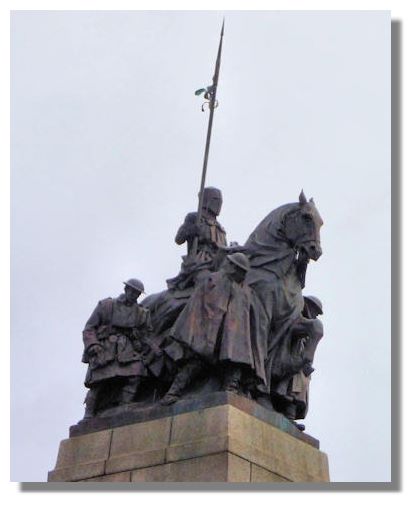 It is at this time of year that ceremonies are held around the world at war memorials to remember those who gave their lives for their country in conflicts from the First World War (the "war to end wars") onwards. Many of these memorials, such as this one in the centre of Paisley, are impressive affairs. The armoured crusader on a charger is flanked by four infantrymen, trudging through mud. The shield and pennant of the knight bear the cross of St Andrew. The tall granite pedestal on which the sculpture stands bears the names of the countries from both World Wars in which men and women from Paisley fought. The inscription reads: "1914-1919 - to the glorious memory of the 1,953 men of Paisley gave their lives in the Great War and in grateful remembrance of the men and women of this burgh who gave their lives for their country in the World war 1939-1945."




If you want to look back at other editions of these photos of Scotland week by week, there is an Index Page

Where else would you like to go in Scotland?