---
Rampant Scotland
Scotland in Colour Week By Week
November - Week 1
"Scotland Week by Week" contains a selection of flowers, animals, birds and scenery typical of the time of year. The photographs were previously part of a regular "Colour Supplement" which ran for nearly four years as part of the original Scottish Snippets newsletter. While seasons do vary from year to year, this collection gives a good idea of the flora and fauna typical of central Scotland at each week of year.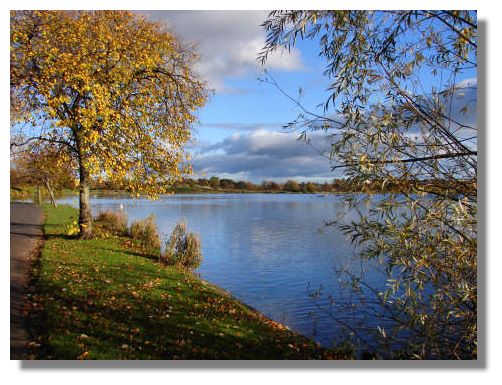 High winds and colder weather have had an impact on the leaves on many trees. This photo was taken in a low autumn sun at Hogganfield Loch in Glasgow.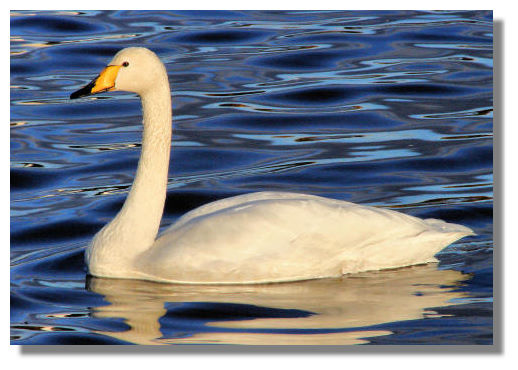 It's always great to see the visiting winter birds arriving from more northerly summer breeding grounds, replacing the summer visitors who have migrated back to Africa and the Mediterranean. These Whooper swans, with their distinctive yellow beaks and even more distinctive whooping calls, have flown into Hogganfield Loch in Glasgow from Iceland, 700/800 miles to the north-west of Scotland.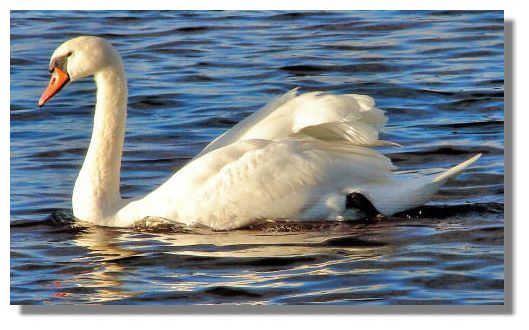 The resident Mute Swans, with their orange bills, are mainly silent (unlike the Whoopers), though they can hiss when angry. Unlike most other birds, the heavy-weight swan cannot take off vertically and has to run along the surface of the water to get airborne. It can only do that on water - land would be too hard on their feet.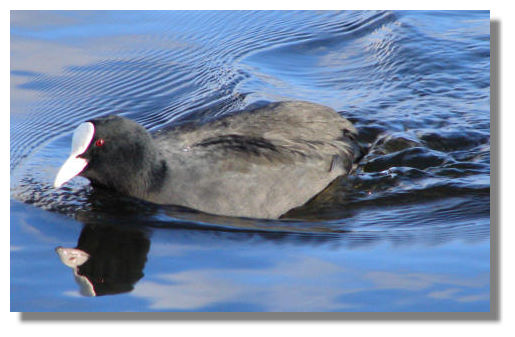 This Coot has a demented look in its eye, though as it has not ruffled up its rear feathers in the "threat" position. Coots are very territorial and can fight to the death to defend their territory but here it is probably not driving off a rival - just moving fast to get some of the bread being thrown to the birds by the humans visiting the loch!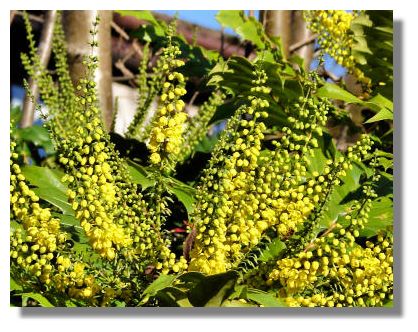 The large yellow flower spikes of Mahonia, which can open at this time of year, are a welcome addition to the gardens when most of the other flowers have faded away.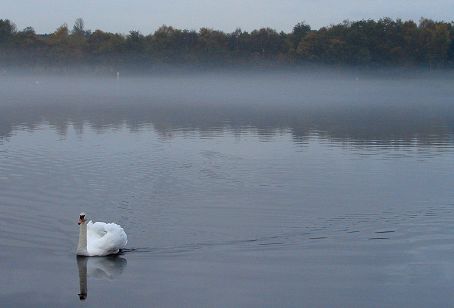 This picture is certainly evocative of November, with the swan sailing serenely away from the pall of mist hanging above the water of Lochend Loch in North Lanarkshire.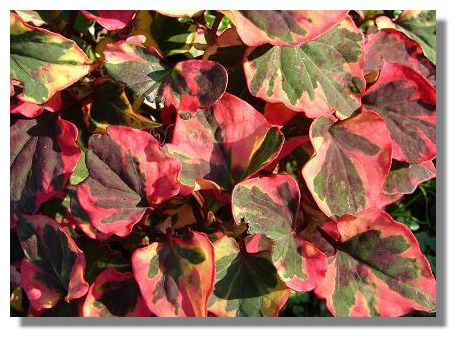 Although this houttuynia has leaves which are typical of autumn colours, it actually has these tints all summer as well. In Scotland, gardeners often refer to this plant as "Hootenanay" instead of its proper name.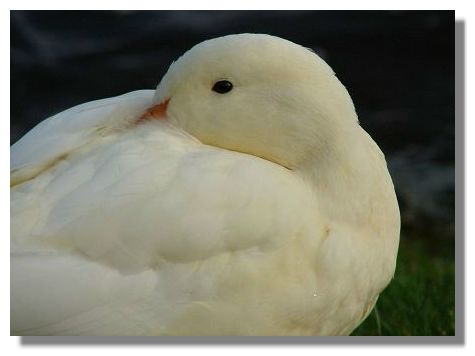 This white duck was trying to get a snooze - but was nevertheless keeping a watchful eye on the camera. It is probably a mallard, though it does not have the usual markings of that type of bird. But mallards have been domesticated for centuries and can come in all sorts of plumage, ranging from pure black, through brown to white.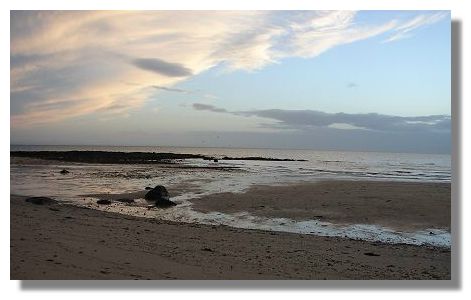 This seascape picture was taken at Dunbarnie Links on the Fife coast. The area is a wildlife reserve and although there are no birds evident in this picture, there were plenty to be seen on other stretches of this North Sea coast.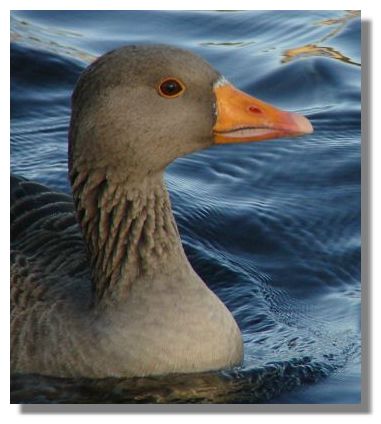 Some greylag geese stay in Scotland all year round but at this time of year thousands of their cousins fly in from Iceland and Greenland to over-winter here.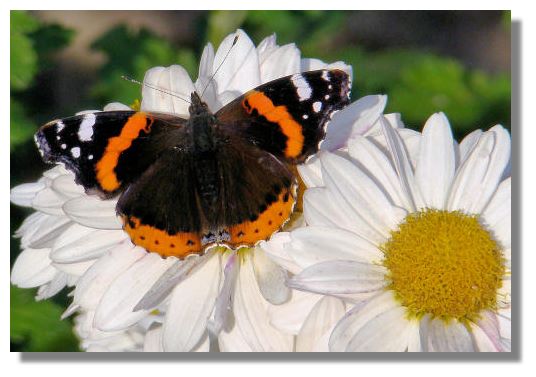 By the end of October it is often too cold for butterflies and those that will overwinter are often tucked away in a sheltered corner. But this Red Admiral was basking on a pure white Marguerite daisy (botanical name is Argyranthemum and it's also known as a Paris daisy). This Red Admiral was one of two butterflies seen that day in the walled garden of Culzean Castle and Country Park.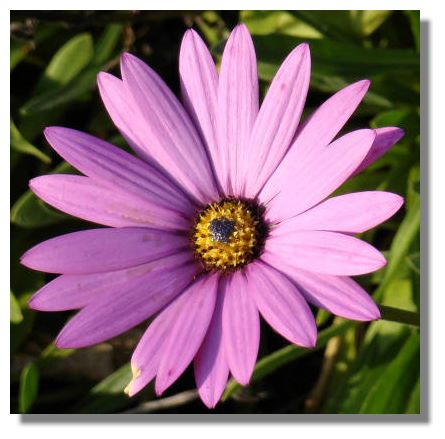 Osteospermum flowers are about two inches across and come in a wide variety of colours. Given the right conditions, it will flower all through the summer with a succession of blooms - there was a white osteospermum illustrated in this feature page back in April.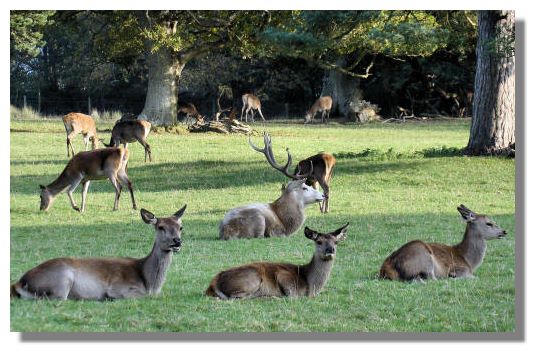 The stag in this herd of red deer at Culzean Castle and Country Park looks very contented. And well he might, having fathered a large number of offspring earlier in the year. His white colouring has come through in many of them - including some that are all white instead of the more usual brownish red colour.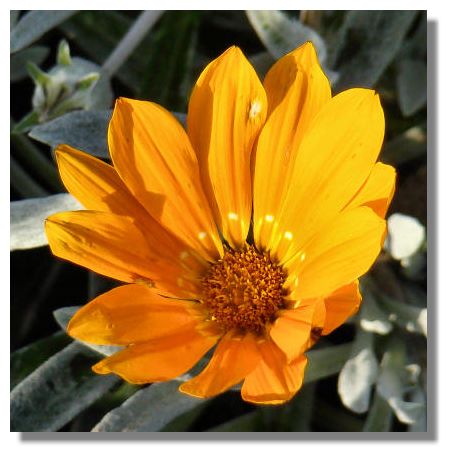 Gazania (also known as "Treasure Flower") are natives of South Africa and the blooms only open out when there is sun or at least very bright conditions. Like the osteospermum above, they have a long flowering season, from mid summer to autumn. Their bright colours are often enhanced by grey or silvery foliage.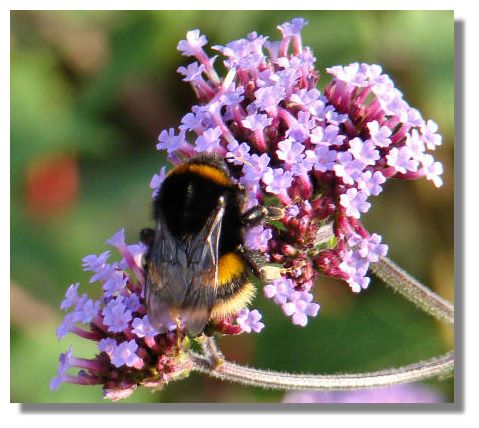 This busy bee was taking advantage of a spell of mild weather and some sunshine as it gathered nectar from a patch of tall Verbena flowers.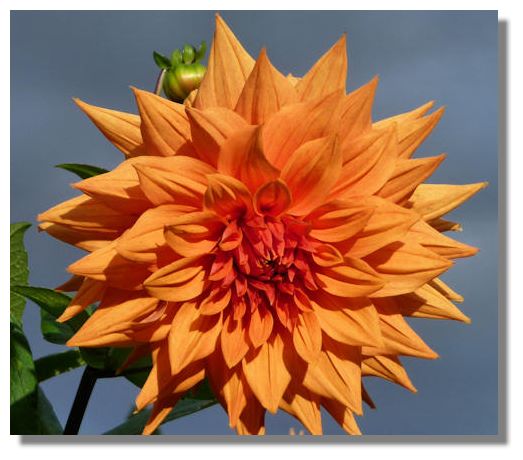 This dahlia is lit up by the rays of a low sun, while behind it are dark clouds, threatening yet another shower of rain.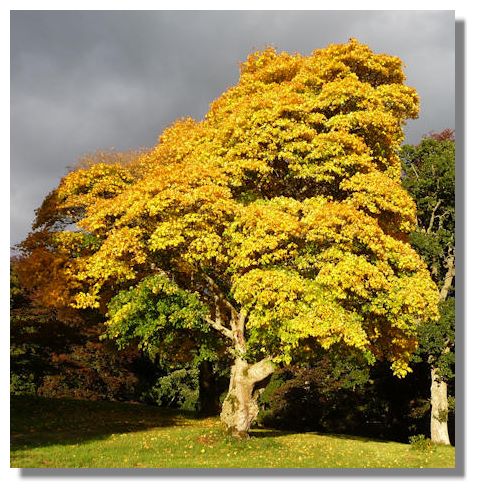 Poor weather over the summer and then colder than usual nights can combine to produce better than usual autumn colours. This magnificent tree in the gardens of Drummond Castle in Perthshire certainly supports that view.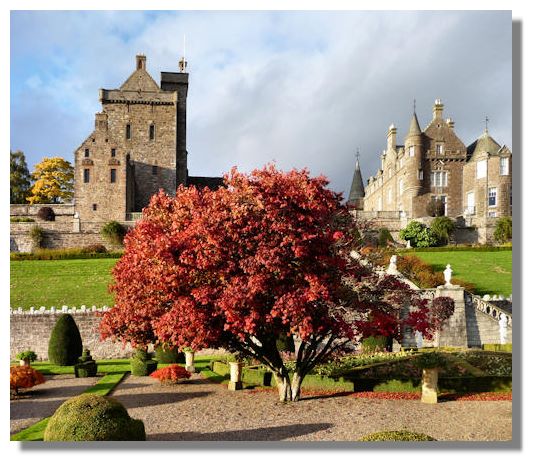 No matter the weather, these Acers, which grow in the formal gardens and parterres in front of Drummond Castle itself, create a marvellous display every year!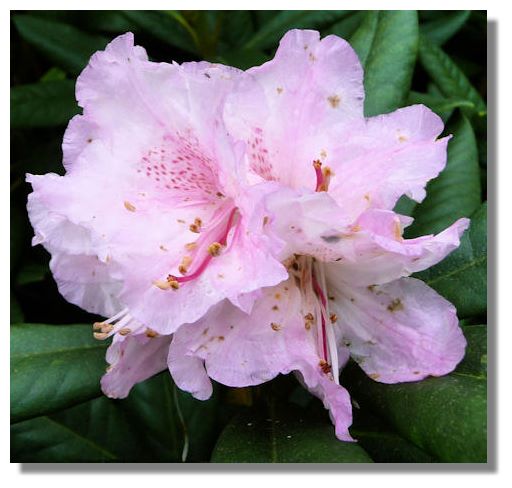 Rhododendron flowers are usually one of the signs of spring, but they do sometimes try to produce a few flowers in the autumn too. Usually they are stunted and not worth a second glance, but this specimen in Finlaystone Country Estate, on the border between Renfrewshire and Inverclyde, has managed to produce a perfect pink bloom.



If you want to look back at other editions of these photos of Scotland week by week, there is an Index Page

Where else would you like to go in Scotland?