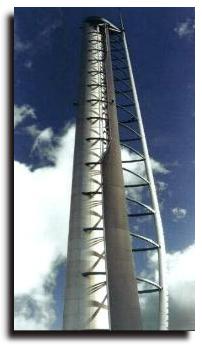 The new 125 metres (400 feet) high Glasgow Tower at Pacific Quay is the highest building in Scotland and the only tower in the world which rotates through 360 degrees.
The Tower is located on the banks of the river Clyde, beside Glasgow's only IMAX cinema (which opened in October 2000). The tower is adjacent Glasgow Science Centre - a massive and exciting building on three floors full of interactive exhibits, virtual reality demonstrations and a planetarium, all aimed at both entertaining and educating its visitors.
The illustrations in this feature show views of the surrounding City of Glasgow which were previously only enjoyed by those going into the helicopter landing port located on the other bank of the river Clyde. When this feature was written, the two passenger lifts are not yet operational and I had to climb the 500 stairs to the top. But the view from the top was well worth the effort - and I will no doubt return as a paying customer once those lifts are working!
Those lifts will ascend slowly by a rack and pinion mechanism, taking two minutes to get to the observation platform, allowing visitors a breathtaking panorama of the surrounding area. The tower itself has been designed like the aerofoil of an aircraft's wing. Motors under computer control ensure that the tower always points into the wind, reducing wind resistance - and allowing it to be exceptionally slim for its height.
Underneath the tower will be a series of rooms with multi-media image and sound presentations showing Glasgow's past, present - and future.
Click on the link to "Views From the Tower" below to see the 12 thumbnail views which lead to larger versions and descriptions of Glasgow and surrounding area from the observation deck of the tower.
Next page > Views From the Tower > Page 1, 2.
Or return to Index of Places to Visit


---
Where else would you like to go in Scotland?