Virtual Tour of Scottish Golf Courses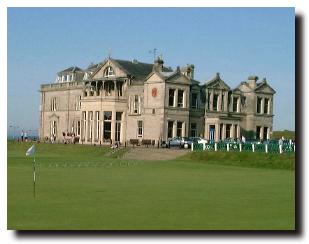 18th green and Royal and Ancient Club House, St Andrews.
Scotland is famous for its golf courses - after all, the Scots invented the game and the sport's governing body is the Royal & Ancient Golf Club at St Andrews. These pages have a selection of those courses around Scotland which have created Web sites - bear in mind that there are 500 courses in Scotland and only some of these are on the Web.

Perhaps you want to plan a golfing vacation in Scotland - perhaps you just want to have a virtual tour. Whatever your purpose, you will find the links contained in the pages listed below will give you a flavour of the variety of golf experiences available in Scotland.
Northern Scotland> - Highlands, Grampian and Aberdeenshire
Central Scotland> - Edinburgh and Lothians, Glasgow and Clyde Valley, Angus and Dundee, Argyll, Dumbartonshire, Stirling and, of course, Fife.
Southern Scotland> - Ayrshire, Scottish Borders, Dumfries and Galloway.
Or return to Index of Places to Visit.


---
Where else would you like to go in Scotland?