Scottish Tattoo 2003
- Shotts & Dykehead Pipe Band



During the course of the Tattoo performances, the Shotts & Dykehead Pipe Band were led onto the stage (sometimes from within the auditorium) by Senior Drum Major Virginia McLennan (seen her on the left). She has appeared in this series of Tattoos since their earliest days, confidently barking out her commands to the band.
Go to the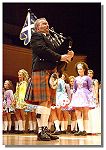 Next Illustration in the series.
Or return to the Thumbnails Index>.


---
Where else would you like to go in Scotland?