- A Moderately Merry Month




Preamble
Many thanks to Scottie and his kind readers who have allowed me back for another eclectic mix of stories from dear old Scotland. Some readers got in touch and we had a wee cybernatter which was good fun and there were more bouquets than brickbats. In fact, there were no brickbats at all but it is early days, I suppose.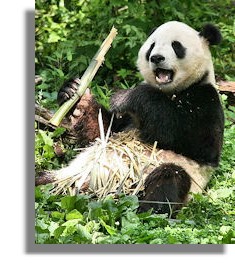 Tian Tian
Given that the Rampant Newsroom is so very close to the panda's enclosure at Edinburgh Zoo, it would have been nice to give you an update on their much publicised mating as reported last month. However Tian Tian, the lady panda, is not yet a mum and as they say " a watched kettle never boils " so I will lay off this subject until there is something to report but if a wee Scottish born panda does eventually pop its wee head out I will encourage Scottie to go big on that story. Not to mention the merchandising - mugs, T shirts the whole shebang.

Lady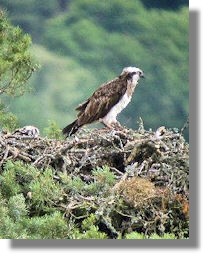 There was a nice response to my story about Lady, the world's oldest breeding osprey that has returned to a nest near Dunkeld in Perthshire. Lady, who could teach Tian Tian a thing or two about motherhood, has laid over 70 eggs in her time. However, the bad news was that in the last month one of her precious eggs was nicked by a pesky crow. Fortunately two other eggs in the nest were undisturbed. (Graphic of Lady by Hugh Venables via Wikimedia).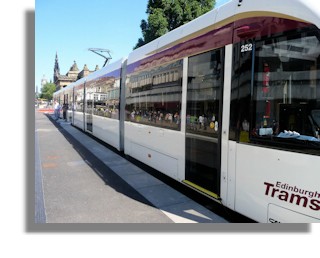 Edinburgh Trams
Despite the usual ups and downs, life in Scotland proceeds and there is a lot to be thankful for. I for one am heartened by the arrival of the Edinburgh Trams (sometimes known in other parts of the world as "Streetcars"). The project has been a very difficult one and the proper service has yet to start, but as I speak they are training the drivers and quite often in the middle of town pedestrians will be warned by a beautifully modulate " ding ding " as the sleek single decker glides past.

Onwards and Upwards
Hope you like this current batch of stories. If you would like to drop me a line at tamfromrampant@gmail.com that would be great. I promise not to spam you with duff offers for panda merchandise....


Tam O'Ranter
May 2014
Return to Tam O'Ranter Index