Reid's Hotel, Madeira
Reid's Palace - 21st Century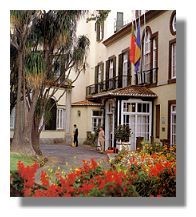 It is like stepping back in time a few decades to the roaring twenties or the elegant thirties as our taxi drives in through the ornate iron gates and up the tree lined drive. Before we have properly come to a stop, a small army of uniformed concierges and porters have come out to greet us. Whether it is the scent from the fragrant orchids and hydrangeas in the gardens, or just an inherent notion of images and ghosts lingering from the past, but the immediate sense of place is dream-like and intoxicating. We have arrived very much in the spirit in which the hotel was created.

Enter a latterday flapper, (in my imagination, long, floaty chiffon frock, pearls and straw hat ) and her handsome beau, (cream linen suit, a la Scott Fitzgerald), as we are courteously led through the lobby, drawing rooms, past the cocktail bar, over to the Garden Wing where we soon reach our bright and sunny suite. A French window from the sitting room leads directly on to a long balcony, complete with wicker chairs and tables, with a fabulous view over the tropical blooms to the turquoise blue Atlantic ocean. The rooms are decorated in subtle pastel colours to create a fresh, cool and comfortable environment. The marble bathroom is extremely spacious, with separate shower cabinet, complete with steam room, for your private spa treatments; there are huge fluffy white towelling robes and the wardrobe, is a superbly designed large walk in cupboard.

And apart from all the usual facilities, Reid's offers guests a mini-bar with complimentary soft drinks, replenished daily. Now that is what I call the perfect touch of sophisticated home-from-home hospitality. We take chilled bottles of Maracuja, the delicious local passion-fruit soda, and sit on the balcony for surely the first task is simply to soak up the ambience and marvel at the beauty and tranquility of the natural environment surrounding us. It is all so utterly romantic. Noel Coward would certainly have been at home here; downstairs in the Cocktail Bar, with its black and white chequer board dance floor, the piano player will be performing such sweet, classic tunes of his day such as Night and Day, The Way you look Tonight, and perhaps even, A Room with a View. The passion juice is having an immediate effect and, still in flapper mode, I recall the exquisite balcony scene in Private Lives.


Amanda: Strange how potent cheap music is. ......
Elyot: Darling, darling I love you so. You love me too, don't, you ( He moves to her). There's no doubt about it anywhere, is there?
Amanda: No , no doubt anywhere.
Elyot: You're looking very lovely you know in this damned moonlight, Amanda. Your skin is clear and cool and your eyes are shining. And you're growing lovelier and lovelier every second I look at you ..
Amanda: (softly) I 'm glad, my sweet ...."
Next page > Restaurants and Cuisine > Page 1, 2, 3, 4, 5, 6.

Return to the Index of Great Places to Stay in Scotland>.




---
Where else would you like to go in Scotland?