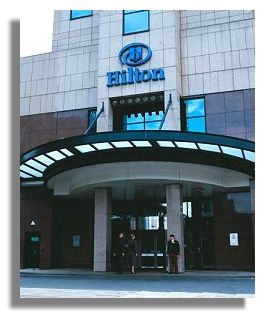 A City Landmark
The name Hilton is internationally synonymous with a high quality standard of hospitality offering four and five star facilities at affordable prices. There are 77 hotels across UK and Ireland with over 15,000 guest rooms. For both the business and leisure traveller, for conferences and families, locations always seem to be carefully selected in city centres, airports and countryside resorts. There are two Hilton hotels in Glasgow - the Hilton Glasgow Grosvenor at the West End and the Hilton Glasgow near Charing Cross.
The Hilton Glasgow was built ten years ago in a prime site overlooking the River Clyde and the Kingston Bridge at 1 William Street, and today the 20-storey building is a city landmark. With over 300 bedrooms, three top floors of executive rooms, two restaurants, excellent conference and banqueting facilities, a Ballroom, a Fitness centre and Spa, the hotel is classed as a five star property. As soon as you arrive in the spacious bustling American-styled entrance lobby you get the sense that this is a hotel that means business on the large scale with every service and facility available to guests.

Accommodation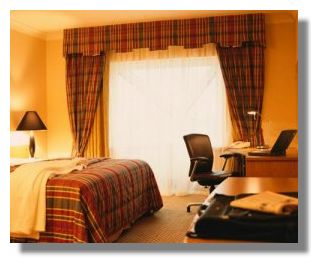 There's a choice of accommodation including deluxe rooms and suites, with King, Queen or twin beds. My corner King room was extremely spacious with a small table at the window and two easy chairs for in-room dining. There's a desk and second phone as an ideal workstation. All rooms have triple glazing offering a peaceful night, despite being right above the motorway. There's air-conditioning with a digital display showing the temperature - although I could not find controls to adjust the heating in my rather chilly room - Satellite TV with internet access, hotel movies, well stocked mini-bar, and tea and coffee tray.
The bathroom was also king-size - roomy and practical unlike your standard hotel bathroom, adding a real touch of luxury with quality toiletries and thick white towels. A comfortable, spacious bathroom for morning ablutions and getting glammed up for the evening, (especially if two people are sharing the room) is as important as the usual bedroom facilities.
The three Executive floors have proved extremely popular with the many repeat guests who check in regularly at the Hilton. On the 19th floor is the Executive Lounge where executive guests check in and out, and where they may enjoy the privacy for a buffet breakfast, coffees, complimentary afternoon tea and evening drinks. The roof-top view is stunning from the lounge over the city sky-line.
The lounge has sofas, coffee tables and a superb selection of papers and magazines for a quiet rest at the end of a busy day. The rooms and suites on the Executive floors offer extra space and personal services.
Its location in the heart of the city, just off the M8, near the Scottish Exhibition Centre with easy access to the airport and a mile from the main railway stations, makes it the ideal place to stay whatever your reason for visiting Glasgow. All the leading fashionable shops, theatres, galleries, museums and nightlife are all located in and around the vicinity or a short cab ride away.
Dining at the Hilton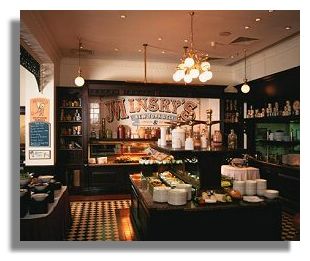 Well situated around the lobby lounge, there is Minsky's -a New York deli and diner, serving breakfast, lunch and dinner in a casual atmosphere. Next door is Cameron's, the hotel's fine dining restaurant which offers guests and non-residents alike the choice of classic Scottish cuisine. Around the corner there's Raffles Bar for the perfect pre-dinner cocktail (speciality the Singapore Sling) or a relaxing drink and snacks any time of the day or evening. The very names, Raffles and Minksy's all add to the international ambience of this premier Hilton hotel.
Did you know that in 2001 the Hilton Glasgow served 121,734 eggs, 5, 443 kgs of tomatoes, 47,969 drams of whisky and 79,194 pints of beer. ?
One man who does know these amazing statistics is James Murphy, the Executive Chef and overall in charge of managing the kitchen for the two restaurants and bar, 24 hour room service and all conferences and banquets. In order to cope with hundreds of meals each day, there is a kitchen brigade of around 36 chefs.
Twenty years ago Murphy began his career working under Mossiman at the Dorchester in London. This year he won the Menu of the Year 2002 at the Scottish Chefs Awards and was finalist in the Egon Ronay and Scottish Chef of the year competitions.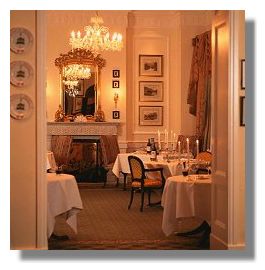 The Cameron restaurant is named after Cameron of Lochiel, Chief of Clan Cameron at the time of the Jacobite rebellion of 1745 when he was personally involved in avoiding political problems when Bonnie Prince Charlie's arrived in Glasgow.
The sophisticated fine-dining restaurant is designed to reflect the historical elegance of a traditional Highland Hunting lodge. The cuisine is equally elegant and classically Scottish with a range of starters including a Warm Salad of Seared Skye Scallops, Fresh Oban Crab, or Smoked Quail breast. Main courses are described as Principal dishes including Mallaig Cod with roasted Queenies', Roasted Borders Lamb, and Guinea Fowl Breast with Parsley mash and fine beans. Rather than the usual token alternative, there is a full Vegetarian menu with a choice of five starters and principal dishes with a feast of imaginative soups, salads, risotto, and stuffed vegetables.
A Market menu is also offered with a changing menu of gourmet dishes such as Smoked Salmon Consommé with shellfish ravioli, Pork fillet with Sweet Potato Mash, a Lemon soufflé and the Cheese board.
Further Dining and Bar Facilities

Minsky's New York Deli and Diner serves meals all day starting with a lavish breakfast buffet through to evening suppers. This is a buffet restaurant for casual relaxed dining and ideal for families. A wide range of soups, salads, roasts, steak from the Grill, casseroles, fish, fries, pastas, light snacks and dessert. Special children's menu too.
A popular place to meet and drink in the Hilton Glasgow is the atmospheric Raffles Bar. The original Raffles Hotel in Singapore is named after Sir Thomas Stamford Raffles who was responsible for the East India Company acquiring Singapore for the British Empire.
Alternatively there is an excellent room service menu 24 hours a day, for sandwiches, snacks, drinks and full meals. An extensive and impressive breakfast menu is left on your bed to fill in and leave outside your door before retiring. Choose between Continental, (fruit, cereals and pastries); Scottish - the full works, with a choice of eggs, bacon, black pudding, sausage, haggis, mushrooms, beans, etc. etc. A Celebration breakfast includes champagne, smoked salmon and scrambled eggs. Japanese Breakfast - grilled fish, Miso soup, rice and green tea.
With a breakfast menu like this, the hotel certainly aims at attracting an international guest list and providing for all tastes and cultures.
I took up the offer of room service and enjoyed a leisurely breakfast of fresh fruit, orange juice, yoghurt, poached eggs, toast, preserves and a pot of coffee while reading the morning paper, which was also delivered to my door.

Conferences and Functions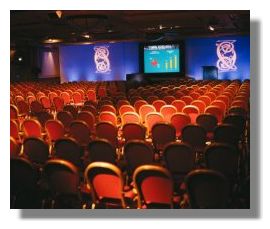 The Hilton is particularly popular with business travellers as well as conferences, conventions, banquets and private parties. Sixteen function rooms are available for small interviews and meetings, exhibition space right up to the grand Ballroom, which can accommodate 1,000 people. Apart from dozens of other special occasions, The Macallan Taste of Scotland awards dinner was presented here this year, (October 2002), and from 7pm reception, to dinner for hundreds of guests and award presentation, and post prandial drinks. The whole event was superbly arranged with first class hospitality and service.

Living Well
A swimming pool, gymnasium and Spa is now an expected leisure facilities at leading hotels these days. At the Hilton Glasgow is a Living Well Health Club, which welcomes non-resident members as well as hotel guests. The huge luxury pool and large fitness centre is extremely popular in the early morning before people set off to work. The Spa has a sauna, steam room, solarium and beauty salon. A wide range of health and beauty treatments, for men and women are offered - facials, food and hand care, Swedish massage, anti-stress care, tanning, make-up and a hairdressing salon.
Verdict


The Hilton Glasgow offers everything and more to the business and holiday guest. The service is friendly, helpful and efficient. The rooms are ultra comfortable with extra special facilities. If I had to describe it in one phrase (which is difficult as there is so much to include), I would say it is a luxurious leisure and convention resort - in the heart of the city.

More Information
For more information or to make a reservation, see the Hilton Hotels Web site.