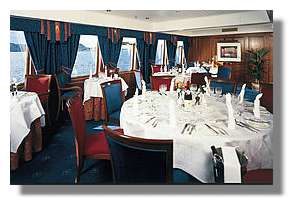 After an energetic tour of an island on these cruises, it is comforting to know you shall return to the peace and luxury of your cabin to wash and change for a relaxing evening on board. You can watch the sunset with a pre-prandial drink in hand on the Skye Deck, sit back and look forward to yet another superb four course dinner. The Princess has a reputation for cuisine of imagination and high quality, offering the very best of local Scottish produce. Dinner on board the Hebridean Princess can include dishes such as Pot Roast Quail with a truffle and garden herb risotto, Pan Fried Halibut over Rice, with a fricassee of sweet peppers and a duo of split vinaigrettes and Mille Feuille of Cinnamon scented filo pastry layered with raspberries and vanilla icecream.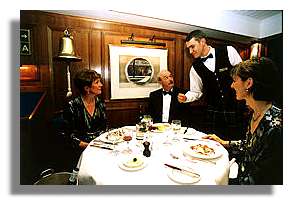 Guests enjoy the glamour of dressing up for Black Tie Gala dinners - there are three formal occasions for each seven night cruise. Dinner in the Columba Restaurant, with its American Cherry wood panelled walls is seen as a highlight at the end of a day in the fresh bracing Scottish air - and perhaps a fair share of sunshine - which is sure to create a good appetite.
Tables are available for a couple, a group of friends and passengers travelling alone may have the option of dining with others and a ship's officer.
Breakfast too is regarded as legendary, whether you wish a healthy bowl of fruit or the works, the full Scottish cooked breakfast of eggs, bacon, and all the trimmings, You might need it before walking for miles across the isle of Mull, cycling, fishing or exploring the Callanish stones on Lewis. If you feel like a bit of a long lie, you can also enjoy continental breakfast in your room.
There are five chefs on board working under the Head Chef, Martin Hunter and all diets and special requests can be catered for if arranged in advance.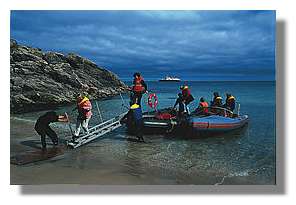 All meals on board together with drinks from the Sommelier's selection, snacks, coffees, soft drinks, and meals and picnics taken ashore are included in the price of your cruise fare. Also included are entrance fees to all castles, gardens and other attractions, coach tours, the use of the ship's small boats, fishing tackle, and bicycles.
Unlike the larger cruise liners, there is no cabaret entertainment, no casino or disco. The emphasis is on relaxation and a well stocked library, board games and a video library supply the only necessary evening leisure pursuits, along with bicycles and fishing equipment for shore activities.
And you can be assured of a restful and calm night's sleep. The Princess rarely sails overnight and spends the evenings at anchor in a secluded bay or cove. It is said that the Hebridean Princess is for people who wish to go cruising but are not in a hurry to get anywhere. They want to do it slowly.
Repeat business is now over 50% with some passengers returning again and again more than ten times. Many guests take more than one cruise during the 37 week season.
What previous guests have said of their journeys....
"One week on the Hebridean Princess provides the equivalent of two weeks' relaxation".
"As a single traveller I wished I had discovered you earlier. I felt completely at ease"
"The service we received from the officers, crew and stewards was of the highest standard throughout."