After the sinking of the "Martello" on Carr Rock in 1857 the erection of a lighthouse on St Abb's Head was recommended by the Northern Lighthouse Board on the coast of the Scottish Borders. The lighthouse was to assist navigation before and after sight of the Bell Rock and Isle of May lights were lost.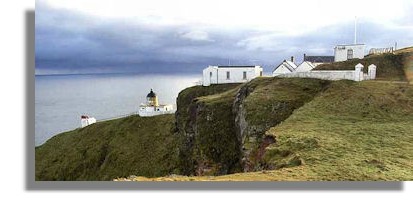 The lighthouse was built by Messrs David and Thomas Stevenson, Engineers to the Board, and was completed in 1862. The light was converted to incandescent in 1906 and to electric operation in 1966.
Graphic of St Abb's Head Lighthouse and keepers' accommodation © Oliver Dixon via Wikimedia Commons
A Siren Fog Signal was established at the lighthouse in 1876, the first siren fog signal in Scotland.
An experimental Racon (Radio Beacon) was established in 1961 and finally established on a permanent basis in 1968. This had now been replaced by a low-power self-operating type.
The 300 feet cliff at St Abb's Head is often obscured by fog and the light is shown at 255 feet from a lantern reached by a flight of steps leading down the cliff from the lightkeepers' house above. The lighthouse was automated in 1993.