Chanonry Point (Scottish Gaelic: Gob na Cananaich) lies at the end of Chanonry Ness, a spit of land extending into the Moray Firth between Fortrose and Rosemarkie on the Black Isle, as the Moray Firth narrows between Chanonry Point and Fort George.
The graphic of Chanonry Point on the right is by "Shirehorse" via Wikimedia.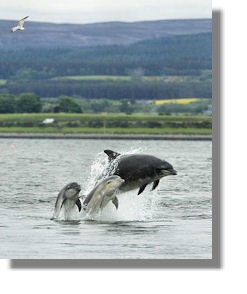 Chanonry Point is one of the best spots in the UK to view Bottlenose dolphins from the land. They are often visible off Chanonry point, particularly on an incoming tide when they play and fish in the strong currents. Other wildlife, including porpoises and grey seals, can also regularly be spotted.
The graphic on the left of a female Bottlenose Dolphin and two young dolphins is by "Shirehorse" via Wikimedia.

A lighthouse is situated at the tip of the point and was designed by Alan Stevenson and was originally a 'one-man station'. It was first lit in 15 May 1846. The lighthouse has been fully automated since 1984 and is now privately owned. Occulting White every 6 Seconds with a range of 15 nautical miles.
When the station was manned, the lightkeeper, in addition to his normal lightkeeping duties, was the "Observer" of Munlochy Shoal, Middle Bank East, Craigmee, Riff Bank East and Navitty Bank Lighted buoys.
The station was automated in 1984 and is now remotely monitored from the Northern Lighthouse Board's offices in Edinburgh.
The graphic of Chanonry Point Lighthouse at sunset is by Carolyn Lee, via Wikimedia.