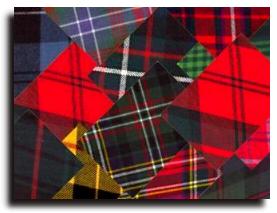 Many people add greetings with a Scottish flavour at the end of their e-mails (and paper messages too). Here is a selection which has been gathered over the years. Where necessary, a "translation" has been provided!


Firstly, here's a selection in Scots:

May the best ye hae ivver seen be the warst ye'll ivver see.
May the moose ne'er lea' yer girnal wi a tear-drap in its ee.
May ye aye keep hail an hertie till ye'r auld eneuch tae dee.
May ye aye juist be sae happie as A wuss ye aye tae be.

The above, in translation, reads:
May the best you have ever seen be the worst you will ever see.
May the mouse never leave your grain store with a tear drop in its eye.
May you always stay hale and hearty until you are old enough to die.
May you still be as happy as I always wish you to be.

Here's to all those that I love
Here's to all those that love me.
And here's to all those that love those that I love,
And all those that love those that love me.
(You have to think about that one!)

I drink to the health of another,
And the other I drink to is he -
In the hope that he drinks to another,
And the other he drinks to is me!

Here's to them that like us -
Them that think us swell -
And here's tae them that hate us -
Let's pray for them as well!

Here's to the heath, the hill and the heather,
The bonnet, the plaid, the kilt and the feather!

Here's to the heroes that Scotland can boast,
May their names never dee -
That's the Heilan' Man's Toast!

Here's tae us -
Wha's like us -
Damn few -
And they're a' deid -
Mairs the pity!

May the hill rise behind you,
And may the mountain be always over the crest;
And may the God that you believe in
Hold you in the palm of his hand.

Or alternatively:
May the road rise to meet you,
May the wind be always at your back,
The sun shine warm upon your face,
The rain fall soft upon your fields.

Lang may yer lum reek! (Long may your chimney smoke!)
Wi' ither folks coal! (With other people's coal!)
(The second line is said to have originated in Edinburgh!)

May we be happy - and our enemies know it!

A guid New Year and mony may ye see.

May ye ne'er want a frien' or a dram to gie him.

When we're gaun up the hill of fortune, may we ne'er meet a frien' comin' doun!

And here are two toasts for the start of the meal (both written by Robert Burns):

Some hae meat, and canna eat,
And some wad eat that want it;
But we hae meat, and we can eat -
And sae the Lord be thankit.

O Thou who kindly dost provide
For every creature's want!
We bless Thee, God of Nature wide,
For all thy goodness lent.
And, if it please Thee, heavenly Guide,
May never worse be sent;
But, whether granted or denied,
Lord bless us with content.

And here is another Burns toast, this time for after a meal:

O Thou, in whom we live and move, Who made the sea and shore; Thy goodness constantly we prove, And grateful would adore; And, if it please Thee, Power above! Still grant us with such store The friend we trust, the fair we love, And we desire no more.

Here is a lucky folklore chant taken from Highland myths and legends. It is carved on a memorial marking one of Scotland's best known drovers' trails near Gleneagles Hotel.

Great Good Luck to the House.
Good Luck to the Family.
Good Luck to every rafter in it,
and to every Worldly Thing in it.

Good Luck to the Horses and Cattle
Good Luck to the Sheep
Good Luck to Everything
and Good Luck to all your Means.

Good Luck to the Good-Wife
Good Luck to the children
God Luck to every Friend
and Good Fortune and Health to al.

And now, here's a selection of Gaelic greetings (with translations!).

SlÓinte maith, h-uile latha, na chi 'snach fhaic!
(Good health, every day, whether I see you or not!)
(Particularly appropriate for e-mail only friends?)

Nollaig Chridheil agus Bliadhna mhath ¨r!
(Merry Christmas and a Happy New Year!)

Gun cuireadh do chupa thairis le slainte agus sonas.
(May your cup overflow with health and happiness.)

SlÓinte, sonas agus beartas
(Health, wealth and happiness)

A h-uile lÓ sona dhuibh 's gun lÓ idir dona dhuib.
(May all your days be happy ones)

And finally, here is the Celtic Blessing of the Nine Elements:

May you go forth under the strength of heaven, under the light of sun, under the radiance of moon;
May you go forth with the splendor of fire, with the speed of lightning, with the swiftness of wind;
May you go forth supported by the depth of sea, by the stability of earth, by the firmness of rock;
May you be surrounded and encircled, with the protection of the nine elements.