Glasgow Photo Library
- Pollok House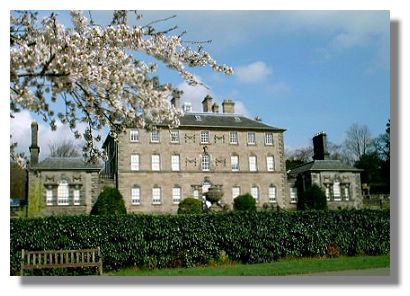 Pollok House is set within Pollok Country Park, also home of The Burrell Collection, three miles south of Glasgow's city centre. The land here has been in the possession of the Maxwell family since the middle of the 13th century. There was a succession of three castles over the centuries until the present house was built around 1740. William Adam, one of the three architect brothers who made such an impact on Scottish architecture in the 18th century, was consulted on the design of the house.

The house was remodelled and extended in 1890 by Sir John Stirling Maxwell, the architect being Sir Robert Rowand Anderson. It now contains an internationally famed collection of Spanish and European paintings as well as porcelain and furnishings of the Edwardian period. Pollok House in partnership with the city council. There are attractive gardens attached to the house and woodland walks. The Edwardian Kitchen Restaurant is renowned for its home baking.
Go to the next Glasgow location:

Princes Square
Or return to the Glasgow Photo Library Index>.


---
Where else would you like to go in Scotland?