Glasgow Photo Library
- Meadowside Granary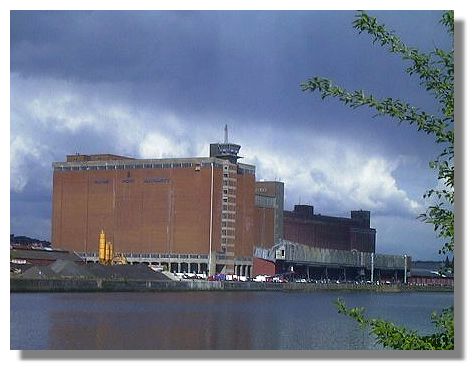 Perhaps the Meadowside Granary should not appear in this Photo Library of Glasgow since it has been demolished. But there was an opportunity to record a landmark which is no longer in existence. It was knocked down to make way for the £500 million "Glasgow Harbour" project which will create 2,500 houses, shops, offices and a river walkway. The debris from the granary is to be ground into fine sand and used on further construction work.

The Meadowside Granary, overlooking the waterfront was started in 1902 and was expanded to become one of Europe's largest brick buildings. In the first half of the 20th century, large grain-carrying ships would sail up the river Clyde right into the heart of Glasgow and unload into the storage at the quayside.
Go to the next Glasgow location:

Merchant City
Or return to the Glasgow Photo Library Index>.


---
Where else would you like to go in Scotland?