Glasgow Photo Library
- Italian Centre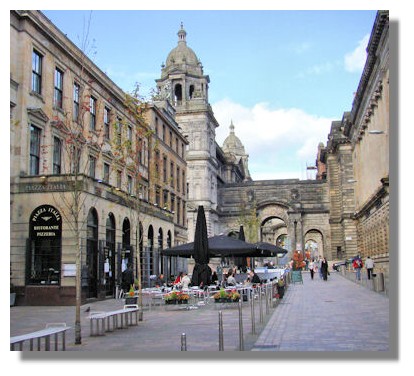 An area of Glasgow, south-east of George Square, has been given the modern marketing title of "Merchant City" - Glasgow certainly had many tobacco and cotton merchants who traded with the Americas in the 17th and 18th centuries. Wherever possible, the old buildings are being redeveloped rather than being knocked down (even if that sometimes means just retaining the frontage to the street).

A group of the Merchant City's 19th century buildings around a small square has become the Italian Centre. It contains some of the biggest names in designer label clothes, including the only branch of Versace in Scotland - after all, Glasgow is the UK's biggest shopping centre outside of London. The Italian theme is continued with Italian restaurants and cafés, some of which have seating outside (weather permitting!).
Go to the next Glasgow location:

Kelvingrove Art Gallery and Museum
Or return to the Glasgow Photo Library Index>.


---
Where else would you like to go in Scotland?