Glasgow Photo Library
- Royal Concert Hall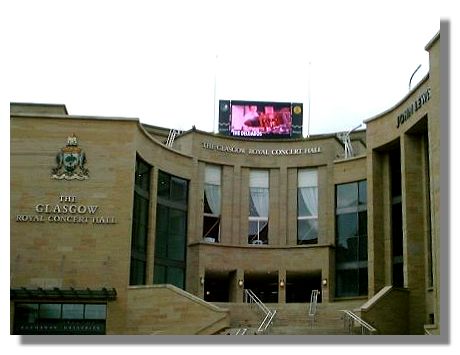 When the St Andrew's Halls were destroyed by fire in 1962, Glasgow was left with no major concert hall. With Glasgow winning the title of "European City of Culture" in 1990, at last there was the motivation to get something done. The Lord Provost (roughly equivalent of Mayor) of Glasgow, Pat Lally, pushed through the building of the Royal Concert Hall, completed just in time for an inaugural concert before the end of 1990. Because of Pat Lally's involvement, it is sometimes referred to as "Lally's Palais".

Somewhat unkindly, but with some accuracy, it has been suggested that in the rush to create a concert hall, architectural drawings created in the 1960s as a replacement for the St Andrew's Halls were dusted off. Certainly, the building smacks of East European brutalism with its stark lines. And the large video screen on the top doesn't help aesthetically. Buchanan Galleries shopping centre next door (part of the financial arrangements to get the concert hall built) has a bit more style.
Go to the next Glasgow location:

St Andrew's Cathedral
Or return to the Glasgow Photo Library Index>.


---
Where else would you like to go in Scotland?