Glasgow Photo Library
- School of Art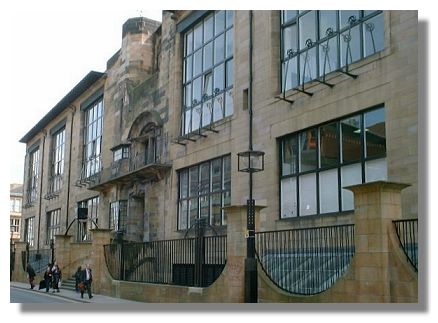 Undoubtedly Charles Rennie Mackintosh's masterwork. Mackintosh won the competition to build the Glasgow School of Art on Renfrew Street, thanks to the director of the school at the time who recognised Mackintosh's genius. Due to financial constraints it was completed in two phases (1897 to 1899 and 1907 to 1909) though it is hard to tell from this solid structure. There are elements of a Scottish castle in the design, but overall there is a wealth of Mackintosh invention and detail. The building clings to the side of a steep hill and on the west facade grille-covered oriel windows soar upwards for three floors.

Inside (guided tours are available) the lighting for the students is superb, the pièce de résistance being the library with dark timber and light filtering in from outside and being shed by Mackintosh designed lampshades onto the distinctively shaped desks and chairs.

Mackintosh's designs for the School of Art influnced architects across Europe - but had little impact in his native Scotland. Then, towards the end of the 20th century, the prophet was at last recognised in his own country.
Go to the next Glasgow location:

Glasgow Science Centre and Tower
Or return to the Glasgow Photo Library Index>.


---
Where else would you like to go in Scotland?