Glasgow Photo Library
- Coat of Arms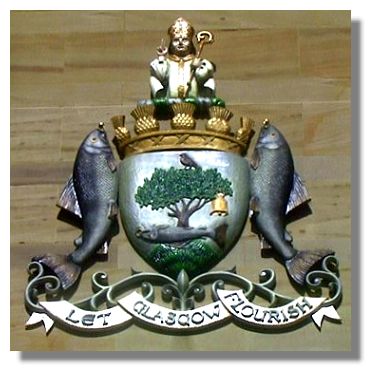 In 1866 the Lord Lyon King at Arms gave approval for a coat of arms for the City of Glasgow which incorporated a number of symbols and emblems which had been used on official seals up until then - all of which were associated with St Mungo. The motto was originally "Lord, let Glasgow Flourish by the preaching of the word" but this was truncated into the more secular "Let Glasgow Flourish" which is still in use today.

Many people, including Glaswegians themselves, are only vaguely aware of the stories and legends associated with the coat of arms:

There's the tree that never grew,
There's the bird that never flew,
There's the fish that never swam,
There's the bell that never rang.

See Did You Know - Glasgow's Coat of Arms for the explanation plus information and illustrations.
Go to the next Glasgow location:

Donald Dewar Statue
Or return to the Glasgow Photo Library Index>.


---
Where else would you like to go in Scotland?