Scottish Parliament - Yesterday and Today
Part 5: Parliament Today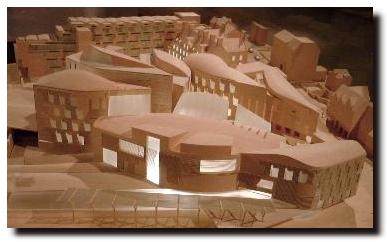 Parliament Today
Some of the key elements of the devolved Scottish Parliament are:
There are (currently) 129 Members of the Scottish Parliament (MSPs) of whom 73 are elected to local constituencies by the "first-past-the-post" system as used at Westminster and remaining 56 seats are based under a "regional list system" - a form of proportional representation.
Parliament is responsible for all Scottish matters - the legislation listed a number of matters as "reserved" such as UK foreign policy, defence and national security, immigration and nationality, macroeconomic monetary and fiscal affairs, law on companies and business associations, regulation of financial institutions and financial services.
A Presiding Officer and two deputies are elected to chair meetings of the Parliament, resolve and interpret the rules for Parliamentary proceedings and represent Parliament in discussions with other governmental bodies.
The party or parties with a majority in the Parliament forms the government - this body of Ministers is called "The Executive". The Ministers are appointed by a "First Minister" who is elected after a vote by all MSPs. Currently there are eleven members of the Executive or Cabinet, two of whom are Liberal Democrats.
When in session, the full Parliament meets in the debating chamber on Wednesday afternoon and all day on Thursday with individual committee meetings scheduled for the other weekdays.
Until the new Parliament building is completed at Holyroodhouse in Edinburgh, the assembly is in temporary premises owned by the Church of Scotland. The new building is scheduled to be ready to be occupied early in 2003.
Legislation can be introduced Ministers, Parliamentary Committees and by individual MSPs. Bills are considered in detail by the appropriate Parliamentary Committee before being presented to all the MSPs for approval (or not). Legislation which is passed by Parliament is submitted to the Queen for Royal Assent.
The Scottish Parliament will normally be elected every four years. An earlier election can be ordered, but only in certain specific circumstances - such as the Executive losing a vote of confidence. The next election is thus likely to take place in 2003.
Web sites where further information can be obtained include:
Previous pages > Page 1, 2, 3, 4, 5.


---
Where else would you like to go in Scotland?