Famous Scots
- Nigel Tranter (1909-2000)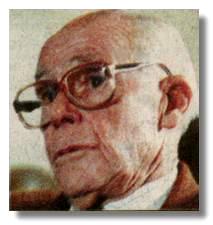 Nigel Tranter
Background

In November 1999, the well-known Scottish novelist, Nigel Tranter, OBE, celebrated his 90th birthday at his home in Gullane, East Lothian. He was in fine form on that occasion - regaling people with his stories, as he loved to do. He was still working away on his latest novels, taking notes during his walks on the sands at Aberlady Bay on the shores of the river Forth, east of Edinburgh, in his ubiquitous notebook. Unfortunately, he became one of the casualties of the influenza outbreak which gripped Scotland that year and he passed away suddenly on Sunday, 8 January. Magnus Linklater, the chairman of the Scottish Arts Council said that he popularised Scottish history more than anyone else in the last 100 years. Others commented that the only history many Scots knew had been learned from reading Tranter's stories, which were as historically accurate as he could make them. He disliked conventional "history" and brought the past to life by his storytelling. Here, for his many admirers, is a short outline of his life and achievements.

Early Life

Nigel Tranter was born on 23 November 1909 in Glasgow but he moved to Edinburgh and was educated at George Heriot's School. His father was an alcoholic and perhaps as a result, the novelist was tee-total. An interest in architecture took him on cycling expeditions to the Scottish Borders where he sketched many of the historic buildings there (such as Kelso Abbey, shown her in this photo). When he left school he started work for a firm of restoring architects. But the death of his father and shortage of money forced him into joining an insurance company founded by his uncle. He married May Jean Campbell Grieve in 1933 (she died in 1979) and a year later he published his first book - "The Forticles and Early Mansions of Southern Scotland" illustrated with his own sketches. His wife May encouraged him to write a romantic novel "Trespass" set in the Highlands. He continued to work in the insurance company while still writing another novel. It was at this stage that he moved to Aberlady - he only moved from there about a year ago. By the time World War II had begun, his two children, Frances May and Philip had arrived. He served in the Royal Artillery during the war but still managed to write another five books during that time.


Full Time Writer

After the war, he became a full-time writer, producing first children's books and romantic novels based in Scotland plus 14 Westerns (under the nome-de-plume of Nye Tredgold). His first major book with a real historic background was "The Queen's Grace" about Mary Queen of Scots, published in 1953 followed by "MacGregor's Gathering" in 1957, the first in a trilogy on Rob Roy MacGregor. By this time he was writing several books every year and between 1962 and 1970 he also published a series of five books on the fortified house in all the regions of Scotland, illustrated with his own pen and ink sketches. His researches for the books on fortified houses created a mass of reference material which led him into lecturing on aspects of Scottish history.


Tranter's Later Novels

In 1969 Tranter produced the first of his famous trilogy on Robert the Bruce (the other two followed in rapid succession in 1970 and 1971). Up until this time many of his books had been a mixture of romance, Wild Westerns and children's books. He himself described them as "ordinary adventure and romance." After the success of his Robert the Bruce novels, he concentrated far more on historical subjects, producing books on William Wallace, King James II, V and VI, a trilogy on the House of Stewart, Macbeth (the real story), Queen Margaret (the saintly wife of Malcolm Canmore), King David I, King Alexander III, Thomas the Rhymer, Somerled (Lord of the Isles), Saint Columba, the Black Douglases and many more. In all his books he showed a vivid visual imagination and the gift of storytelling for ordinary people. His appeal to ordinary readers resulted in some criticism from a few professional historians (who would no doubt have been delighted if their own dry tomes had sold in the same numbers). His books were not only popular in Scotland but had an audience around the world.

Tranter's love of castles comes through in "Tales and Traditions of Scottish Castles" and his five volume work on the "Fortified House in Scotland". His "Story of Scotland" is a history of Scotland which, like all his other books, is written in a style which sweeps the reader along with the story and makes you want to turn the next page to find out what is going to happen next.

In all, Nigel Tranter published 130 books and in 1998 he was still writing, with books on the Vikings and one set in the time of King James IV. In 1999 he was still using his battered typewriter, using the handwritten notes he had jotted down.

Tranter's Nationalism

Tranter had a passionate love of Scotland and was a fervent patriot without being a "Nationalist". He wrote a popular account of the removal of the Stone of Destiny from the Palace of Westminster in 1950. He was a long-time personal friend of Ian Hamilton QC who was one of the group who were involved in that escapade. He was generous with his time in support of causes he believed in and argued, eventually successfully, for the construction of the Forth Road Bridge. He supported the National Covenant movement which attempted to achieve "Home Rule" for Scotland and he was an enthusiastic supporter of the Scottish Parliament and worked tirelessly in support of its creation as a member of the Constitutional Convention. He visited the Parliament in Edinburgh for the first time only a month ago. The Scottish First Minister, commenting after Tranter's death said "Nigel Tranter's books gave enormous pleasure to generations of Scots. He opened up a whole world of Scottish history and did much to make us proud of our heritage."


Public Speaking

Over many years, including recent times, Nigel Tranter has been asked to give talks on the history of Scotland. His enthusiasm and flowing style came through on these occasions too and left many people feeling that if history had only been taught in schools the way Tranter presented it, the subject would have been far more popular. His lively mind and love of Scotland and history always came over too in private conversations with all the many people he met.

Biography

Tranter always refused to write his own autobiography but in his later years he allowed Ray Bradfield, a retired diplomat, to write a "warts and all" biography. The book was published in the December before his death (Nigel Tranter, Scotland's Storyteller" by Ray Bradfield, 1999, published by B&W, Edinburgh. ISBN 1 873631 98 7). In an interview, Tranter was asked how he would like to be remembered. He replied "As a storyteller who tried to get people to appreciate Scotland's story and to realise how exciting colourful and dramatic it really is."

Further Reading

An extensive site by Cameron Cunningham> has a biography section, list of books and a special section on Nigel Tranter's love affair with Scottish Castles. The story of Tranter's involvement with the restoration of Ballencrieff Castle> is also available on the Web. If you have Shockwave installed on your computer, you can hear to a half hour stream of Nigel Tranter's "The Wallace" at Highlander Web>.
Return to the Index of Famous Scots>


---
Where else would you like to go in Scotland?