Edinburgh Photo Library
- Salisbury Crags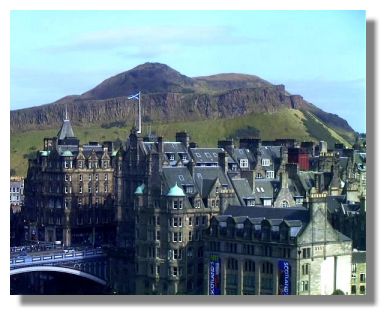 Brooding over the city is the volcanic rock of Arthur's Seat and its cliff face of Salisbury Crags. It was the father of modern geology, James Hutton, who first demonstrated that the rocks had been molten magma which had been thrust up to form the igneous sill.

In the early 19th century, the Earl of Haddington (as Hereditary Keeper of Holyrood Park) began a wholesale quarrying of the rocks. It took the House of Lords in 1831 to stop him, thankfully before he had done too much damage.

This picture of the Crags, over the rooftops of central Edinburgh, was taken from the top of the Scott Monument.
Return to the Edinburgh Photo Library Index>
or go to the next Edinburgh location:

Scandic Crown Hotel.


---
Where else would you like to go in Scotland?