Edinburgh Photo Library
- Royal Bank of Scotland HQ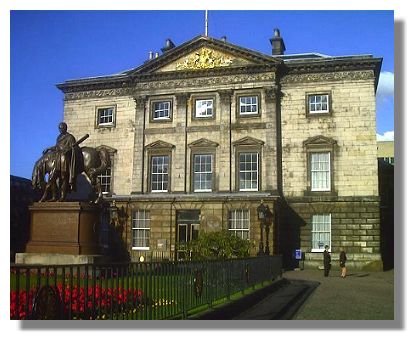 Looking more like a large house than a bank Head Office, the Royal Bank of Scotland building on St Andrew Square was designed by Sir William Chambers in 1771. The early plans for the Georgian New Town of Edinburgh placed a church on this site to face the one in Charlotte Square, at the other end of George Streeet. But Sir Laurence Dundas got there first and built himself a mansion.

Inside, the banking hall is magnificent - a blue painted dome with gold, star shaped windows letting in the light. The ceiling is featured on all the Royal's banknotes. The equestrian statue in the front of the building is of John Hope, 4th Earl of Hopetoun. It has an inscription by Sir Walter Scott.

The Royal Bank of Scotland was set up by Royal Charter on 31 May 1727, unlike its rival the Bank of Scotland which was established by an Act of the Scottish Parliament (before the Act of Union) in 1695.
Return to the Edinburgh Photo Library Index>
or go to the next location:

Royal High School of Edinburgh.


---
Where else would you like to go in Scotland?