Edinburgh Photo Library
- Palace of Holyroodhouse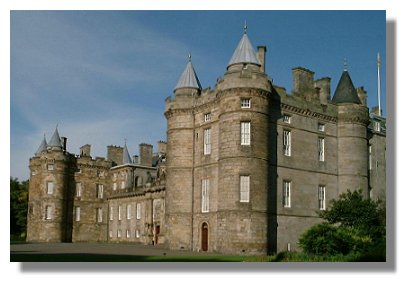 According to legend, King David II founded an Augustinian monastery where he had a vision of a stag with a cross between its antlers. This was about a mile to the east of Edinburgh Castle (and the road linking the two buildings is still called the Royal Mile). The monastery may have taken its name from a fragment said to have come from the true cross, brought to Scotland by the king's mother, Queen (later Saint) Margaret.

Many of the succeeding Scottish kings preferred staying beside the monastery rather than the castle and gradually a the Palace was enlarged. King James IV and James V in particular, added considerably to the structure and much of what they created has survived. King James IV was married in the Abbey to Margaret Tudor.

See also Places to Visit - Palace of Holyrood House> for more information and illustrations.
Return to the Edinburgh Photo Library Index>
or go to the next Edinburgh location:

Holyrood from Arthur's Seat.


---
Where else would you like to go in Scotland?