Edinburgh Photo Library
- Murrayfield Rugby Stadium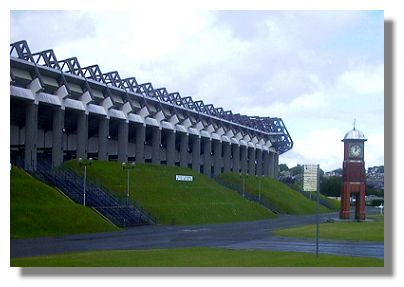 The Murrays were a prominent family in Scottish history - Sir Andrew de Moray was a companion of William Wallace. An area of Edinburgh, connected with the family, became known as Murrayfield and it was here in 1925 that the Scottish Rugby Union Stadium was inaugurated in 1925. In the first match there, Scotland beat England 14-11.

While primarily a rugby stadium, it is also used as a venue for other events - pop concerts (from U2 to Tina Turner) and was the Edinburgh location for the Pope's open-air youth rally during his visit to Scotland in 1982. For a spell, Murrayfield was the home ground for the Scottish Claymores, the NFL Europe American-style football.

The clock seen on the right of the picture used to be inside the ground (before the days of digital stadium displays). It was moved outside a few years ago when Murrayfield was upgraded.
Return to the Edinburgh Photo Library Index>
or go to the next Edinburgh location:

Museum of Scotland.


---
Where else would you like to go in Scotland?