Background
We have got used to the idea of global warming and some folk are even counting on it - vines are being planted on south-facing slopes in Tayside in the expectation that Scotland can produce its own vintage wine in the near future.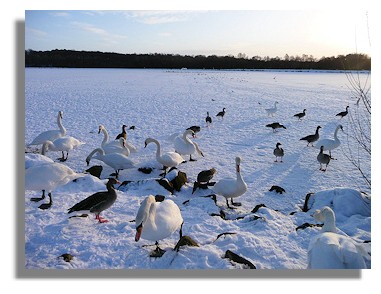 But the Scottish weather isn't reading the news reports and weather forecasts and the winter of 2009/10 in Scotland as a whole was one of the coldest in living memory. Only the winter of 1962/63 was significantly colder than 2009/2010, in a series running from 1910. For northern Scotland, 2009/2010 was simply the coldest winter on record, with the highest number of frosts ever. There were significant snowfalls widely at times from mid-December until the end of February - the Scottish ski slopes, which had been in decline for many years due to lack of snow, had their best winter for many years. Those of us who don't ski just complained about the dreadful, long, cold, winter (and ignored the accompanying lower rainfall levels). Of course, the forecasters confidently announced it was all an exception to the norm, due to jet streams across the Atlantic moving south and pushing cold air down over Europe. Freezing weather that usually impacts on Iceland and Norway moved further south. Overall world temperatures continued to rise...
We were all hoping here for a return to a milder winter for 2010/2011. But instead, November this year has broken records for the amount of snow and the low temperatures.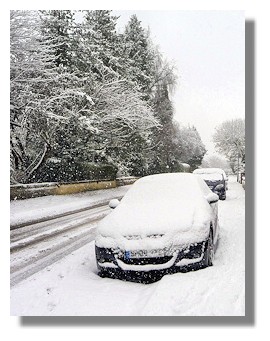 In advance of this week, the Meteorological Office issued a series of "severe weather warnings" of widespread icy roads in Grampian, Strathclyde, Central, Tayside & Fife, South West Scotland and the Lothian and Borders regions. Even by midday most towns and cities were still experiencing sub-zero temperatures with Inverness reaching a record low for November overnight of -14C (6.8F). I know there are many parts of the world that experience much colder than that (I've experienced 0F or -7C in Chicago myself) but we are not used to it - especially in November! Plunging temperatures meant untreated roads froze up, leaving many commuters struggling to get to work and schools facing closure for days on end.
Even major roads had to be closed, including the A9 through the Highlands and the M8 motorway between Glasgow and Edinburgh was reduced to one lane in each direction. As conditions worsened on Monday evening Tayside Police closed the A9 to traffic along a 26-mile stretch between Broxden at Perth, the roundabout beyond Dunblane. That's not in the Highlands, where such severe weather can often arise, but in the Lowlands of Scotland. On Wednesday, a section of the M8 between Edinburgh and Glasgow was closed in both directions after a lorry jack-knifed near Livingston. Then the northbound M90 had to be closed at Junction 1 due to several lorries that became stuck in the snow.

Although the worst of the snowfalls were in the north and east, trains travelling in and out of Glasgow in the west of the country were severely affected, with cancellations on many lines. Edinburgh Airport was closed for extended periods on a number of days this week due to snow on the runways and many schools across Scotland were forced to close - much to the delight of the pupils. On Tuesday, around half the schools in Edinburgh closed. Dundee City Council announced that all schools were to remain closed on Thursday due to the severe weather conditions - but pupils were being asked to work online. Almost all of Aberdeenshire schools were closed or partially closed for several days this week. The snow arrived in the north east of Scotland last Wednesday so many schools have been closed for more than a week as a result.
The little village of Altnaharra in Sutherland got into the UK national news as temperatures overnight dropped well below freezing to -22.3C (-8.14F). I felt sorry for the reporter sent to the snow-bound Altnaharra to cover the story! The remote village already shares the record for the lowest temperature ever recorded in the UK, having experienced -27.2C (-17.14F) on 30 December, 1995 and the media were hoping it might create another UK record.
A weather front that came in from the Atlantic on Thursday would normally have brought milder weather but as soon as it reached land, the frozen ground turned the precipitation to yet more snow flurries. Walkers and skiers in the Pentland Hills south of Edinburgh and on Arthur's Seat within the city of Edinburgh were warned of the risk of avalanches on Friday. Temperatures did rise a little on Friday but that just meant that it melted some of the surface snow which then froze again overnight, creating treacherous conditions on Saturday. By Saturday, Scotrail managed to run some trains north to Aberdeen but other routes were still affected with cancellations or reduced frequency of services
Sporting fixtures have also been hit by the bad weather, with all six of the weekend's Clydesdale Bank Premier League games postponed.
Experts on weather statistics say that the UK's lowest ever recorded temperature in November was -23.3C (-9.94F) recorded in Braemar on November 14, 1919. That month was followed by a mild winter, so the current temperatures do not necessarily mean the freezing conditions are set to stay. Those of us who are not ski enthusiasts can but hope - and the ten-day forecast does suggest that the central Lowlands may see a thaw by the end of next week... But the bookmakers have shortened the odds on us having a white Christmas....

A Photo Opportunity
Of course, although the weather conditions caused many problems and road accidents, the heavy snowfalls made for ideal conditions not just for skiers but for photography too. The only problem was that with icy, snow-covered roads and with the police emphasising that we should only travel by car if absolutely necessary, my own photography this week has been limited to my garden and the local area in suburban Glasgow - but that has provided quite a lot of scope, as you will see from the collection below.

Although there were often leaden skies as snow clouds passed over to dump yet more white stuff on the ground, there were also many clear spells when blue skies and sparkling pristine snow combined to create great pictures. The branches here are of an apple tree with an evergreen conifer behind.

This was the scene on Monday as more snow fell on this suburban road. Despite the slippery slope and snow, the tyre tracks show that some vehicles managed to get up this hill - this was when four-by-four owners benefitted from the extra traction provided by such vehicles.

Church buildings often produce attractive photographs - this one in Bearsden, East Dunbartonshire has been included in the annual Rampant Scotland calendar. But the snow just adds to its beauty.

The river Clyde valley in which Glasgow is located, doesn't have any mountains nearby but these Campsie Fells can often be seen from tall buildings in the city. This is the view from my house in part of the suburban sprawl of Glasgow - thanks to a telephoto lens of course!

On Tuesday, the clear skies and some clouds created a pink glow on that snow on the Campsie Fells.

I often wonder what young birds hatched in the summer must think when their world is transformed overnight by a thick covering of white, cold snow, covering up many of their sources of food. This wood pigeon seems to be puzzled!

With the attraction of some bread put out on a patch of grass cleared of snow, this pigeon came down to investigate - but still looks puzzled as it sinks into the soft snow.

This robin was fluttering desperately trying to get into the peanut nibbles that had been put out for the smaller birds. But it didn't seem to have developed the technique of being able to get through those small bars which are designed to keep out the squirrels. I used to think of Robins as being very territorial and staying in the same place and defending their patch. But I have read that our local Robins fly south to warmer areas while others robins come in from Scandinavia to take their place.

Made It! I was delighted to see you later however that the robin had managed to get through the defences and was feeding happily on the peanut nibbles!

This is a young Dunnock which probably hatched out earlier this year and is certainly looking puzzled by the transformation of its world. Fortunately, in suburban areas there are many people who provide food for the birds particularly in weather conditions such as these.

The Dunnock is very much a ground feeder and often has problems trying to negotiate the cage that encloses the peanuts. But this one has managed to get through - perhaps desperation for food has helped it to overcome the problem!

Of course, this peanut feeder is designed specifically for small birds such as the Bluetit. This small bird has no difficulty in sliding through the outer cage. The only surprise is that there are not several companions competing in there for the scarce food!

Although the squirrels have tried many times to get into the peanuts in this cage, they have always failed. That never stops them from trying again especially in weather conditions such as these. This one was possibly attracted by the fact that the peanut feeder had recently been restocked. Of course I relented and put out some food on the ground which became a free for all - with various squirrels taking the lions share!

Here is one of the squirrels successfully foraging for some bread and fruit cake - the latter proved to be particularly popular!
If you want to read the other Diary entries going back to 2009, there is an Index page.