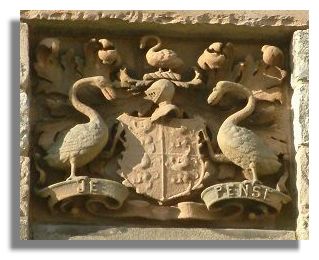 Located south of Coaltown of Wemyss in a large, private estate on the shores of Fife, Wemyss Castle has been the property of the family of that name since the 13th century. Sir Michael Wemyss was one of the emissaries sent to bring Queen Margaret, the Maid of Norway to Scotland in 1290. It was Margaret's death in Orkney, en route from Norway that precipitated the succession crisis in Scotland.

During the Wars of Independence in the following decades, Wemyss Castle was destroyed by the invading English army.

Rebuilt in the 16th century, the round tower in the corner may date from the 13th century.

Mary Queen of Scots is said to have met Lord Darnley at Wemyss Castle (in February 1565). She married Darnley in July of the same year.

The Earldom of Wemyss was created in 1657 and the Wemyss family still occupy the castle. It has been considerably modified and extended over the years.

Although the Wemyss estate is private, a walled garden is open to the public on a limited basis.