Scottish Castles Photo Library
- Tantallon Castle, Lothian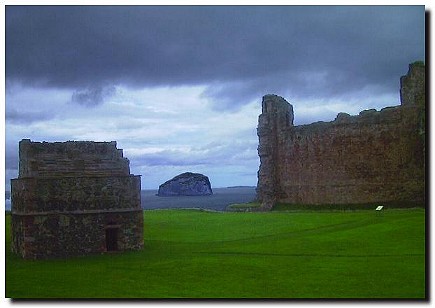 Tantallon was built by the Douglas family in the middle of the 14th century when William Douglas, the "Knight of Liddesdale", became head of the family. William's heir, James Douglas, was killed at the Battle of Otterburn in 1388 in which the Scots defeated Henry Percy, (Hotspur).

The 5th Earl Angus (from the "Red Douglas" family) committed treason in 1491 by agreeing to deliver King James IV into the hands of Henry VII of England and Tantallon was beseiged by royal forces. In 1514 the 6th Earl married the widow of King James IV and the young King James V was cared for at Tantallon. However, he became a virtual prisoner, escaped and returned to besiege the castle! The Earl was sent to exile and the castle became royal property for a spell. Mary Queen of Scots stayed at the castle in 1566.

The real damage to Tantallon was done in 1650 when, following raids on Cromwell's lines of communication, heavy cannon were brought up and wreaked heavy damage for 12 days before the garrison surrendered. Afterwards, the Earl of Angus moved to Lanarkshire and the castle and barony were sold to Sir Hew Dalrymple, Lord President of the Court of Session but he allowed the castle to decay.

See also Places to Visit - Tantallon Castle> for more information and illustrations.
Return to the Castles Photo Library Index>
or go to the next castle:

Taymouth Castle.


---
Where else would you like to go in Scotland?


Where else would you like to go in Scotland?