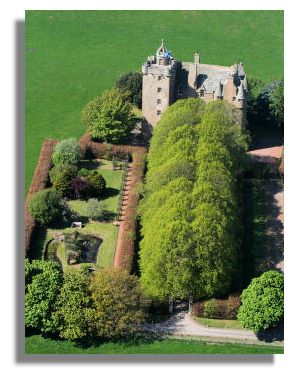 Castle Stuart is about six miles north-east of Inverness. The land in that part of Scotland was at one time owned by the Mackintoshes who claim descent from the royal house of Dalriada. They were part of a force led by King Malcolm IV which repressed a rebellion in Moray in 1160. Granted lands in the valley of the river Findhorn, the lands of Petty, as they were called, became the centre of clan territory.

The 5th chief led his clan at the Battle of Largs in 1263, during the reign of King Alexander III. His son was raised by his uncle, the Lord of the Isles and he married the daughter of the chief of Clan Chattan in Lochaber, extending the clan lands to Glenloy and Loch Arkaig. After that, the Clan Chattan, which developed into a loose confederation of independent clans, was usually led by a Mackintosh (though challenged on occasions by the Macphersons). They probably erected the first stone-built castle there as far back as the 14th century.

In 1561, however, when Mary Queen of Scots returned to Scotland after the death of her first husband, the King Francis II of France, she decided to give the Mackintosh lands to her half-brother, James Stuart, and granted him the title of Earl of Moray. The new owners set about creating a new castle, probably incorporating parts of the earlier structure. But as both the first and second earls of Moray were murdered, it was not until 1625 that the third Earl of Moray completed Castle Stuart. Oddly, the third earl had married Anne Gordon, the daughter of the Earl of Huntly - who had stabbed to death the second earl of Moray!

But with the changing fortunes of the clans, shortly after the castle had been completed, a force of 500 Mackintoshes turned up to attack it. The Earl of Moray and his family fled. As supporters of the Stuart kings, the earls of Moray's power declined in the 17th century and they never returned.

Castle Stuart fell into decline and became a derelict ruin for nearly 300 years. Then in the 1980s, Charles & Elizabeth Stuart bought the castle and began the monumental project of restoring it to its Jacobean splendour. It now offers 5-star luxury accommodation in eight bedrooms.

Note: The photos of Castle Stuart on this page are copyright Scotavia Images who provide a quality aerial photography service for Scotland. Prints from their large online gallery are available for purchase. If you have ancestors with a Scottish Highland origin, they can provide an aerial view of the area they came from!