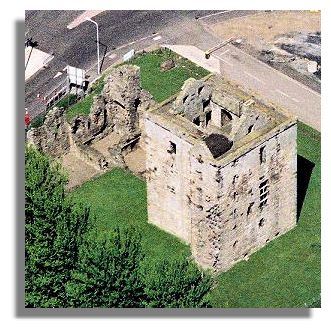 © Scotavia.com

Today, Rosyth is surrounded by the Admiralty dockyard and the ferry port to Zeebrugge in Belgium but when a fortification was first created there in the 15th century and for a long time afterwards, the castle was on an island, approached by a causeway.

Rosyth was a barony (the lowest in the ranking of nobility) given to Sir James Stewart in 1428. The original tower of the castle dates from a bit later than that, however. There was an original barmkin (enclosed courtyard) with an unusually high wall (around 40 feet high).

In the 1440s, the Abbot of Inchcolm (an island in the Firth of Forth) created one of the first histories of Scotland for Sir James. The "Scotichronicon" includes the mythological story of "Scota", a daughter of an Egyptian Pharaoh, who sailed with the Stone of Destiny to Spain. Her sons later discovered the land which was named after her - Scotland.

The Royal Arms and the initials M.R. (for Maria Regina - Mary Queen of Scots) appear above a gateway with a date of 1561.

In 1635, when alterations and extensions were being made, the initials of James Stewart and Margaret Napier were carved on a new transom window. In 1647, Sir James Stewart was imprisoned for being a supporter of King Charles I. By that time, the king was held prisoner in Carisbrooke Castle in England, having failed to defeat Cromwell and the Parliamentary forces. The Roundheads later sacked Rosyth Castle in 1650.

The Stewart family owned the castle until early in the 18th century. It then passed to the Earl of Roseberry and then the Earl of Hopetoun - his estate at Hopetoun House is on the other side of the Firth of Forth.

Note: The photo of Rosyth Castle on the right of this page is copyright Scotavia Images who provide a quality aerial photography service for Scotland. Prints from their large online gallery are available for purchase. If you have ancestors with a Scottish Highland origin, they can provide an aerial view of the area they came from!