Scottish Castles Photo Library
- Portencross Castle, Ayrshire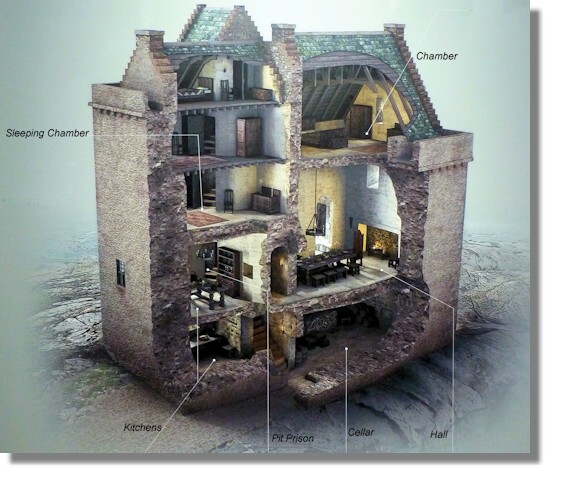 Portencross Castle After 1400s




The hamlet of Portencross is on the west coast of Ayrshire overlooking the lower reaches of the Firth of Clyde, less than 2 miles from present day West Kilbride. The present site has been fortified since the 13th Century but originally Portencross Castle was known as "Arneil" (alternatively spelled "Arnele" or "Ardneil") and it stood on top of nearby Auld Hill where it had been established as far back as 800BC. The fortification later allowed a watch to be kept on the islands in the Firth which were held by the Vikings at that time. (The graphic on the right of a Viking longship drawn up beside the castle is imaginative rather than accurate).




Robert the Bruce gave the lands of Arnele and Kilmarnock to the Boyd family for supporting him in the War of Independence. The fortification was moved from Arneil Fort to its present site on a rock promontory at the bottom of the hill, overlooking the harbour so that the Boyds could defend sea routes and access the islands on the Firth of Clyde and beyond which became part of Scotland soon after the defeat of the Vikings in the Battle of Largs in 1263. The harbour became an important ferry port for access to Rothesay Castle and the royal deer forest on Little Cumbrae. King Robert II (who reigned from 1371 to 1390) used it when the Stewart dynasty was being established The present building is thought to date from the 14th Century with later additions. It is believed by some to have been a royal residence, as it is known that several charters of the first two Stuart kings were signed at the castle.




The castle remained occupied until the roof was blown off during a violent storm in 1739. The castle walls still remained in place, and as a result of local conservation efforts by the Friends of Portencross Castle FOPC), with financial assistance from organisations and individuals who raised over £1 million, including grants from Historic Scotland and the Heritage Lottery Fund. The building has recently been opened to the public (mainly in the months of July and August), with visitors able to access a ground floor room, the main hall, and the roof - the latter gives clear views across the Firth of Clyde. The graphic here shows the main hall inside the castle as it is today.



Return to the Castles Photo Library Index>
or go to the next castle: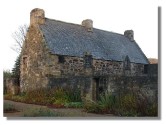 Provan Hall.


---
Where else would you like to go in Scotland?


Where else would you like to go in Scotland?