The burgh of Maybole is 9 miles south of Ayr, on the main road to Girvan and, eventually, Stranraer. It received its charter in 1193 from the first Earl of Carrick. The town still boasts the ruins of a fine collegiate church dated 1371. Maybole became a burgh in 1516, which gave it the right to elect a member of the Scottish parliament.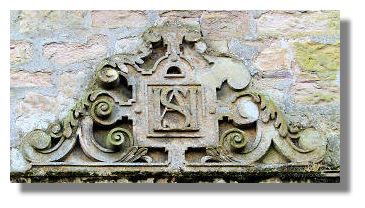 It is the Kennedy family that dominated this part of Ayrshire. The name is found as early as the reign of William the Lion (1165-1214). The Kennedy's claimed to be related to the Earls of Carrick and supported Robert the Bruce who came from that line.
In 1372, King Robert II confirmed John Kennedy of Dunure as chief of the clan and in 1457 John's direct descendant, Gilbert, was created Lord Kennedy. He was one of the regents of the infant King James III.
Sir David, 3rd Lord Kennedy was created Earl of Cassillis (pronounced "Cassels") and Marquess of Ailsa in 1509 but died four years later at the Battle of Flodden in 1513.
During the Reformation of the 16th century, the Earl of Cassilis, wanting to expand their estates, tried to persuade the Commendater of Crossraguel Abbey to sign over the church lands (and their revenue). When the priest refused, the earl roasted the abbot over a fire in Dunure Castle until he agreed to sign!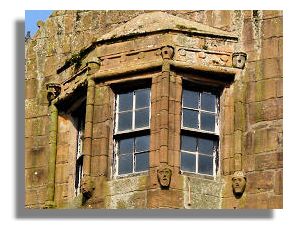 In the late 16th century, the Kennedy's built Baltersan Tower, between Maybole and Crossraguel Abbey and Maybole Castle became their town house in the winter months. Maybole Castle was probably built around 1560, in the style of a typical Scottish castle, despite its location. The walls are seven feet thick in places. The castle was larger than it is today - part of the L-shape building was demolished in 1805 and the main entrance originally looked up the High Street. A lovely oriel window (described by the castle experts McGibbon and Ross as as a "rare specimen"), still looks up the street, adorned with sculptured heads. Legend had it that a Countess of Cassillis had eloped with Johnnie Faa, King of the Gypsies and there was a local story that the heads represented Faa and his men!
The 10th Earl of Cassillis engaged Robert Adam to build the magnificent Culzean Castle at the end of the 18th century. Maybole became used less and less and eventually became the Estate Offices for the earldom.