Scottish Castles Photo Library
- Lochinch Castle, Stranraer, Dumfries & Galloway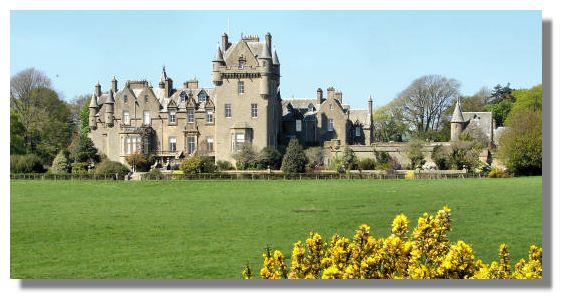 Lochinch Castle is the home of the Earl and Countess of Stair whose ancestor, Sir James Dalrymple of Stair, inherited Castle Kennedy and the surrounding estates from the Kennedy Earls of Cassillis (pronounced "Cassells") in 1677. Sir James was a distinguished lawyer who was President of the Court of Session. He was created Viscount Stair in 1690 and died five years later. His son, John, became 2nd Viscount Stair (and later Earl of Stair). He was also a lawyer who became Lord Advocate for Scotland and then Principal Secretary of State. It was the Earl of Stair who signed the infamous orders that resulted in the Massacre of Glencoe early on the morning of 13 February, 1692.

Castle Kennedy was destroyed by fire in 1716 and the family moved to Culhorn, near Stranraer. The 3rd Earl of Stair (who was a Field Marshall and was an Ambassador to France), was inspired by the royal gardens at Versailles near Paris and took a great interest in remodelling the gardens at Castle Kennedy. These are now open to the public and offer a magnificent collection of rhododendrons, azaleas and conifers as well as a large lily pond and a walled garden with many herbaceous plants.

In 1867, Lochinch Castle was built in the Castle Kennedy estate, looking over the White Loch towards the original castle. Although Lochinch was called a "castle", there was no need for fortifications, so it was created as a large, comfortable and opulent Victorian house. It had all the modern facilities available at that time and was fully self-sufficient, pumping its own gas for lighting and with a laundry, dairy and stables.

Return to the Castles Photo Library Index>
or go to the next castle:
Loch Leven Castle.


---
Where else would you like to go in Scotland?


Where else would you like to go in Scotland?