Scottish Castles Photo Library
- Inveraray Castle, Argyll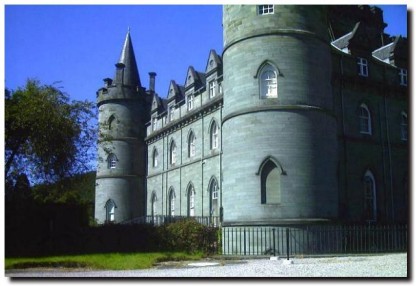 There was an original castle built on this site by the Campbell Earls of Argyll in the 15th century. James V visited it in 1533 and Mary Queen of Scots in 1562. But that castle was set on fire by the Marquis of Montrose in 1644 during the Civil War.

The 3rd Duke of Argyll built the present castle (and much of the town of Inveraray) in the 1740s. It is more of a mansion than a castle. It was considered to be "inferior" to its predecessor - and the conical "pepper pots" were added to provide more of a "castle" look.

Although the castle is still the home of the Duke of Argyll, many of the rooms in the castle are open to the public. The main hall soars to the full height of the house and is decorated with a superb collection of weapons. There are collections of tapestries, paintings and items of special interest to members of Clan Campbell. Rob Roy McGregor's sporran and dirk handle are on view.

See also Places to Visit - Inveraray Castle> for more information and illustrations.
Return to the Castles Photo Library Index>
or go to the next castle:

Inverkip Castle.


---
Where else would you like to go in Scotland?


Where else would you like to go in Scotland?