Scottish Castles Photo Library
- Glencairn Castle, Dumfries and Galloway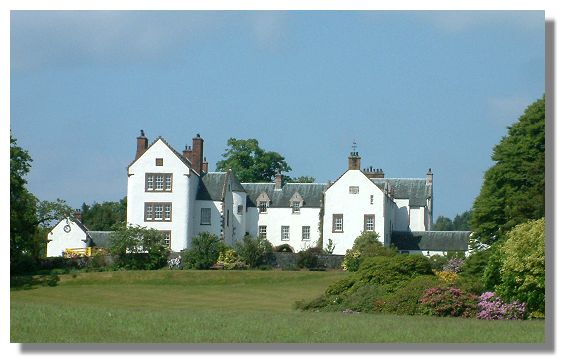 It is thought that an early castle dating from the 14th and 15th centuries may have been incorporated into a 17th century tower house. The estate was originally owned by the Dennistouns but then passed in the 15th century to the Cunninghams by marriage. That family became the Earls of Glencairn in 1488 but it was then sold to the Laurie family in 1611.

It was while under the ownership of the Lauries that it became the home of Annie Laurie. She became immortalised in the song of that name - see Traditional Scottish Songs. It was originally written by Annie's sweetheart, William Douglas, and later amended by Lady John Scott (1810-1900) who altered the second verse and composed the third. Glencairn Castle was renamed Maxwelton House - Maxwelton Hill (or brae, as in the song) is behind the property. The Laurie family remained in the property until 1966. It is still occupied and is open to visitors from time to time.

The tower house has been extended over the years and is now more of a mansion house than a castle. The tower is at one end of a more modern wing and a round tower, once providing an access stair, is in the angle between the two wings. There is a date carved in a wall of 1641 together with a Latin inscription and the arms and initials of Sir Robert Lawrie and Dame Jean Riddell.
Return to the Castles Photo Library Index>
or go to the next castle:

Glengorm Castle.


---
Where else would you like to go in Scotland?


Where else would you like to go in Scotland?