Although Fyvie dates back to the 13th century, it has been much modified and added to over the intervening centuries. That has produced one of the most impressive frontages of the many in Aberdeenshire, as it links the former central gatehouse named Seton Tower and Preston and Meldrum Towers at each end. The towers rise to five storeys and their names reflect some of the many past owners of the property.

Fyvie started out as a royal hunting lodge with the river Ythan creating defensive marshes around it. The name is derived from the Gaelic for "deer hill". William the Lion held a parliament there in 1211 or 1214 and King Alexander II granted a charter while visiting in 1222. English King Edward I was less welcome in 1296 but Robert the Bruce used it in 1308 as a base when he crushed the Comyns to strengthen his hold on the crown.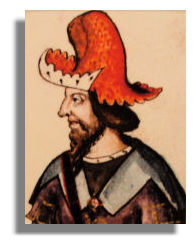 John, Earl of Carrick (later King Robert III - illustrated on the right) granted Fyvie to his cousin Sir James Lindsay in 1370 but the castle was granted to Sir Henry Preston in 1390 (though he was not able to gain possession until 1402). Meldrum tower is named after Alexander Preston who obtained the property in 1433 through marriage. In 1596 the Fyvie was sold to Alexander Seton who was later to become Chancellor of Scotland. He greatly enlarged the castle and added the upper storeys, creating one of the finest examples of 16th-century Scottish baronial architecture.
A century after Alexander Seton had bought Fyvie, his grandson died penniless in exile in Paris in 1694, having supported the Jacobite cause. After a spell in the ownership of the Crown, it was sold in 1733 to the 2nd Earl of Aberdeen and passed to the eldest son of his third marriage, The Hon William Gordon of Fyvie. Late in the 18th century William drained a marsh to the east of Fyvie, created an ornamental lake and landscaped park and added the Gordon tower to the north of the west wing.
By 1885 his heirs were in financial trouble and the estate was bought by American steel magnate Alexander Leith. Leith was able to trace his family tree back to Sir Henry Preston, the 14th century owner. As many previous owners had done, he added the Leith tower. His grandson sold Fyvie and its contents to the National Trust for Scotland in 1984.

Note: The photos of Fyvie Castle at the top of this page is copyright Scotavia Images who provide a quality aerial photography service for Scotland. Prints from their large online gallery are available for purchase. If you have ancestors with a Scottish Highland origin, they can provide an aerial view of the area they came from!